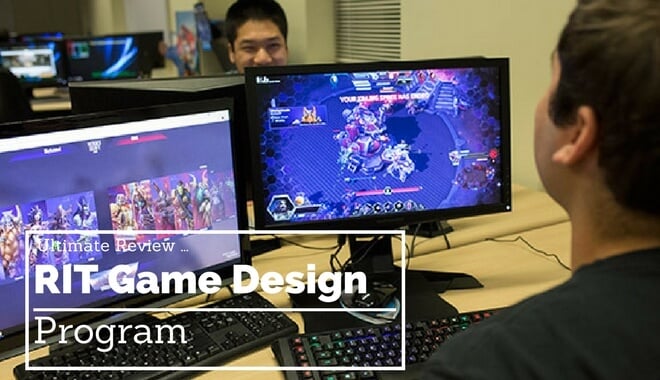 The Rochester Institute of Technology is located in Rochester, NY (aptly named). As far as snow goes, Rochester is no Syracuse…but you should get ready for an impressive amount of the white stuff.
That being said, cities like Rochester that get a ton of snow every year really know how to clear it. Don't expect any snow days. Or even any class delays (you're supposed to be looking forward to learning, anyway—aren't you?!).
Think of all the snow and freezing winter temperatures as additional incentive to finish that new game—then you'll really be capitalizing on your time in the third snowiest city in the US.
Enough snow talk, let's look at what the Rochester Institute of Technology has to offer students like you.
BS Degree in Game Design and Development
---
The Bachelor of Science in Game Design and Development at RIT "allows students to explore the entertainment technology landscape and related areas, while still pursuing a broad-based university education.
The degree is intended specifically for students who aspire to hold careers within the professional games industry or a related field, such as simulation, edutainment, or visualization."
One of the biggest arguments you'll see against getting a degree in game design is the pigeon-holing effect. If you only learn game design, you'll be trapped in the game industry and won't be able to shift laterally into a different industry.
RIT puts this to rest somewhat, mentioning peripheral video game industries like simulation and edutainment.
But their Game Design and Development program has another advantage over lesser game design programs; This program "also provides students with a core computing education that prepares them for graduate study or employment in a number of computing fields."
If you decide to make games isn't for you, you have your computing skills to fall back on. Not every game design program offers that kind of versatility, but having those plan B skills can make all the difference.
The Game Design program at RIT offers some flexibility in your advanced studies.
Every student completes the core courses, but after that, you're free to "pursue advanced studies that can be customized to individual interests and career goals."
You'll have the option, as a student, to go deeper into your major with electives in topics like:
Game Design
Graphics Programming and Animation
Audio
Engines and Systems
Production
And the list keeps going.
Also, the Game Design and Development program requires students to take up a co-op. A co-op, or a cooperative education, "is full–time paid work experience that provides students with an opportunity to learn on the job in real-world industry setting [sic]."
Talk about a differentiator. While other game dev programs might churn out a few hundred students every year with the same generic, academic portfolio, RIT forces you to take on two blocks of cooperative education. You'll be graduating with two blocks of actual, paid industry experience.
If you combine that industry experience with a stacked portfolio, you'll be in a great position to find and land a job you want.
The Curriculum:
RIT has the "typical course sequence" for the Game Design and Development program right on their website.
In your first year, you'll be studying topics like:
Game Development and Algorithmic Problem Solving
Writing
Interactive Media
2D Animation and Asset Production
Discrete Mathematics
Physics
Wellness Education
And a few other topics, as well. That's a pretty well-rounded first year. Not many schools offer wellness education as a mandatory year one program, but it's hard to argue with staying healthy.
Courses like 2D Animation, Maths, and Algorithmic Problem Solving should give you a good sense of what to expect on your educational journey. You can use those classes as your guide in deciding if you've made the right academic choice after all. If it's not a good fit, you can duck out early. If it is a good fit, you can dive in headfirst.
In your second year, you get a little more of the same (minus the wellness education) and then some:
Interactive Media Development
Mathematics
Game Design and Development
Website Design and Implementation
3D Animation and Asset Production
Co-op Preparation Workshop
After your second year, you're free to pursue your co-op. Starting the summer after your sophomore year, you're eligible for finding that full-time, paid position. You'll notice RIT includes a Co-op Preparation Workshop—it's not worth any academic credits, but at least you won't be flying in blind.
You'll also notice your second year expands on some topics, like mathematics and animation, and pulls in new concepts, like website design.
In your third year, you'll study:
Game Design and Development
Data Structures and Algorithms for Games and Simulations
Rich Media Web Application Development
And the rest of what you study is pretty much up to you… You'll have "free" elective credits and "advanced" elective credits.
The advanced elective credits are based around the game design and development major. That is your opportunity to go deep on whatever interests you.
Advanced electives include:
Multi-platform Media App Development
Casual Game Development
Tabletop Game Design and Development
Foundations of Interactive Narrative
Data Visualization
Interactive Game Audio
Artificial Intelligence for Game Environments
Linux Software Development
Physical Computing and Alternative Interfaces
And more—there's a lot to choose from, here. Typically your advisors will know the best courses for you to take based on your interests or how you want to specialize. Still, there are plenty of subjects here to get those creative juices flowing and those possibilities growing.
Your fourth year is pretty much all electives. When it's all said and done, you'll end up graduating with 124 credit hours (which doesn't include the hours you spend on your co-op).
Game Design and Development BS/MS Hybrid
---
There is a hybrid program that lets you earn your Game Design and Development BS/MS degree in one fell swoop.
This involves a heavier fourth year and an additional fifth year of academics. Your Fifth-year includes a capstone project. Your fourth year will feature game design topics pretty heavily (compared to mostly electives, as with the BS degree):
Game Industry Themes and Perspectives
Game Development Processes
Colloquium in Game Design and Development
Game Design
Gameplay and Prototyping
And there's still room for electives on top of that.
Game Design and Development MS Degree
---
The Master's degree in game design at RIT is a two-year program that really dials in on game design and development.
The fourth-year courses you focus on in the hybrid degree? Those become the first-year courses for the Master's program. The second-year revolves around the capstone project.
There's room for advanced electives, although your options aren't as extensive as the BS advanced elective options. You can study topics like:
Digital Audio Production
Innovation and Invention
Social and Pervasive Game Design
Console Development
Game Graphics Programming
Artificial Intelligence for Gameplay
And the list continues.
Is the Game Design and Development Program for You?
---
For this, we turn to Reddit. Redditor emmiltee pulls us into their experience, saying "my experience as a GDD major and what I've heard from other upperclassmen is that the number of people nation-wide trying to get jobs in the video game industry vastly overshadows the available jobs.
Once you get here, you have to build a stellar portfolio and network the heck out of professors and campus fairs to get ahead, and only 10% of graduates will find work in a game-related field.
That being said, everyone else who graduates ends up some sort of programmer– you aren't just throwing away 4 years for a useless skill set."
So, there you have it. RIT won't be an easy ride. You'll need to work hard to stand out, not only while you're there, but after you graduate, too.
But, if you're ready to buckle up and put the time in, RIT can help get you where you're trying to go.