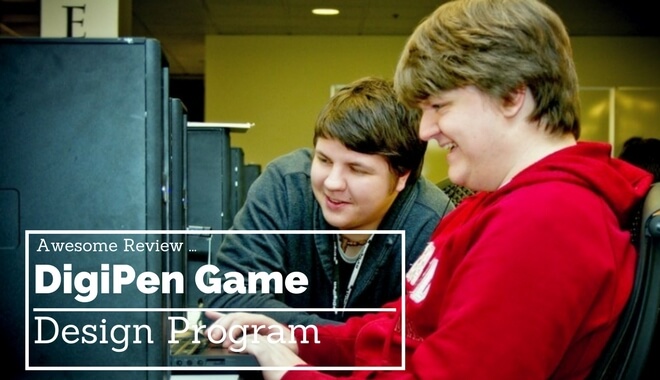 The DigiPen Institute is an expensive school, but it's a good school for game development. To hear DigiPen tell it, "Game development is a core component of DigiPen's curriculum. Each year, students from across DigiPen's degree programs work together on game projects to create fully playable 2D and 3D games."
Not only that, but DigiPen students have won awards for many of these video game projects (the game that inspired Portal was created at DigiPen).
So, you have to be ready to work hard. But, if you don't mind serious student debt, the program can give you what you're looking for in terms of computer science and game design skills, and a great professional network.
Let's take a closer look at your options, and what makes the DigiPen institute worthwhile.
The Programs at the DigiPen Institute
---
At DigiPen, you'll choose between a Bachelor of Arts in Game Design, or a Bachelor of Science in Computer Science, with some flexibility in your focus—either Real-Time Interactive Simulation or Game Design.
Let's start with a BA in Game Design.
Bachelor of the Arts in Game Design
---
The BA Game Design program "prepares graduates to be modern game designers, capable of working in large teams, communicating and collaborating with other designers, artists, and engineers, and able to create an experience that is greater than the sum of its parts."
Working in teams, communicating, collaborating—you won't be able to build games without these skills. A school program that conditions you for work in a team environment will be advantageous down the line.
But it's not without its pitfalls—when it comes to your portfolio, for example. If you've collaborated with a team to design games in your portfolio, make sure you can clearly articulate your role in that game.
Make sure hiring managers know exactly which elements of the game you were responsible for. Otherwise, they could take that particular submission with a grain of salt.
The BA Game Design program says "the field of digital entertainment has moved from an era where designers were self-taught and learned on the job, to one where even entry-level designers are expected to be well-trained with proven design skills, along with an understanding of technology, art, audio, narrative, and psychology."
And there's merit there. Narrative, audio, psychology—these are lesser-tended facets of game design. It's easy to remember the code, or the character design, or the level design elements of a game because those are obvious. But narrative and audio can go a long way in changing the caliber of projects you make.
And psychology—if you learn what makes people tick, and what human tendencies are, you can find ways to give them what they want or surprise them with something new.
The Curriculum:
While the specific courses aren't available, you can take a look at the outline for what is covered in the BA Game Design program at DigiPen:
Game Design and Development
Foundational Topics
Humanities and Social Sciences Courses
This curriculum touches on what we mentioned earlier—the "hidden" layers of game design.
Game Design and Development naturally covers topics like:
Game mechanics
Game dynamics
2D Level Design
3D Level Design
Game aesthetics
Character Design
Play-testing
And more.
Foundational Topics include:
Drawing
Animation
Psychics
Computer science
Modeling
Film
Music
These foundational topics can give you an outlet to pursue more nuanced aspects of game design—or give you an edge over the competition.
And, finally, the Humanities and Social Sciences courses cover:
Psychology
Economics
Writing
Communication
These skills have an everyday, practical application, but who knows what clever idea you could pull into your games from these disciplines.
BS in Computer Science and Game Design
---
The Bachelor of Science in Computer Science and Game Design "prepares graduates to be hybrid engineers/designers who have strong programming and mathematics skills, combined with formal training in game design."
If you like programming, and you're interested in game design, it's hard to go wrong with a computer science degree. Before game design degrees, there were only computer science degrees. CS degrees were the go-to move for many aspiring game creators.
The CS background is still highly valuable. It's versatile—if somewhere down the road you fall out of love with designing video games, there's plenty of demand in other industries for quality programmers.
DigiPen says "the field of digital entertainment has grown from using small teams of just a handful of developers for an entire game to using large teams of one hundred or more on a single title.
This large increase…has created a growing demand for a type of developer who can bridge the scientific and creative sides of game development, able to work as an engineer or designer as needed."
The Curriculum:
If you read the section on the BA in Game Design, you'll recognize the Game Design and Development section. It's very similar for both programs:
2D and 3D level design
Character behaviors
AI programming
Game Dynamics
And the list goes on.
But the computer science degree comes into play with Core academic courses:
Computer Science (surprise!)
C
C++
Linear algebra
This program also includes Humanities and social sciences, which include psychology, writing, etc. (again, similar to the BA course listings).
With this degree, you could do everything from Game design to technical design, to tools programmer.
BS in Computer Science in RTIS
---
The Bachelor of Science in Computer Science in Real-Time Interactive Simulation offers a unique opportunity for students—the chance to get their Master of Science in CS, in conjunction with their BS, through an accelerated schedule at DigiPen.
This degree program focuses "on the technical aspects of computer graphics and simulations."
The RTIS degree will set you up with a "solid foundation in mathematics, physics, and programming, then apply that knowledge in yearly team-based projects where they design, program, test, and finally release their own fully playable games to the public."
The Curriculum:
This program differs significantly from the other two programs we looked at. You'll deal with topics like:
Programming (simulations and text-based, 2D, and 3D games)
Drafting (organizational design documents—for the game and technical design)
Creating (AI algorithms for game objects that are computer-controlled)
And that's the tip of the iceberg. Computer networks, graphical user interfaces, and game production are also covered in the program.
With this degree, you could be a Gameplay Programmer, a Software Architect, an Artificial Intelligence Programmer, along with other careers.
Applying for a Spot at DigiPen
---
Now that you know what you'd be getting into…we should take a quick look at how to get in.
You'll need the usual suspects for this application (if you aren't used to this yet, go ahead and get acquainted with them now. Welcome to the college application process):
The DigiPen Admission Application
Your ACT or SAT Scores
Your Application Essay
But, depending on your major, you'll need to submit some extra elements.
For the BA in Game Design, you'll need to submit a design portfolio. Computer Science applicants will likely have to submit mathematics and science requirements.
The application requirements aren't too crazy, as you can see. But it does require that you've demonstrated some of your own initiatives with game design (in the case of the BA), or some proficiency with maths and sciences (for the BS in CS degrees).
The Industry Insider Tip–From Reddit
---
Dudeman21, a programmer on Reddit who works for Nintendo, left a comment on Reddit that might be good to hear (especially if you like Nintendo).
He said "as someone who used to do a lot of interviews for potential Nintendo employees, we grabbed people from DigiPen quite frequently. There's a good number of Nintendo staff that come directly from that school."
That whole Reddit thread is worth a look. There are arguments for and against going to DigiPen. Even on the negative reviews, most commenters agreed that DigiPen is a great place to network and gain connections. So, if you do decide to go to DigiPen…Get ready to connect with people!