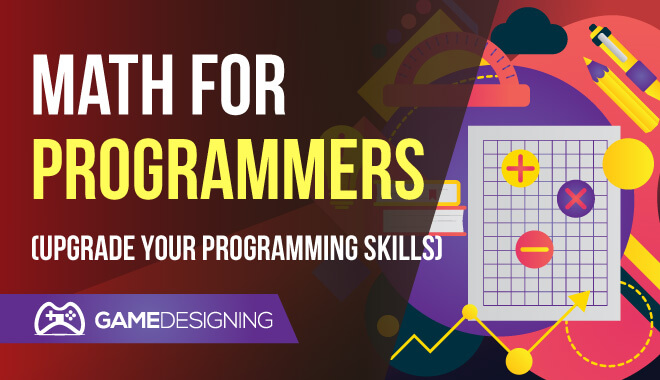 What kind of math is used in computer programming?
While programming itself doesn't need the programmer actually to engage in hard mathematics, there are quite a few different branches of math included in the essence of computer programming.
Basic programming math, algebra, and trigonometry are the most common strains of math for programming. However, it is recommended that you are familiar with concepts more than hard mathematics. Knowing probability, propositional logic, and proofs will be extremely helpful for math programming.
Math Books for Programmers
These books will educate you further in math programming and mathematical concepts in general:
---
This more recent book is filled with fantastic exercises, examples, and helpful math designs to help you net a career in programming. Orland's book focuses on exactly what you need to be a successful programmer, data scientist, and machine learning.
---
This book is geared towards introducing the reader to what mathematical functions are essential to getting the hang of machine learning. These include calculus, algebra, and analytic geometry. This book aims to more easily blend different flavors of mathematics into one to teach a programmer or computer science student better the basics of machine learning.
---
Dr. Springer sets out to ensure the reader knows their basic math for programming and computer science. You'll get a crash course in some of the most critical topics, including graphs, problem-solving, complexity theory, and graphs.
---
This more casual and lighthearted guide will be great for visual learners out there. It sets out to easily convey common problems in programming and how to solve them. This, of course, includes a healthy dash of discrete mathematics. Through over 400 drawings of detailed walkthroughs, you will be better at math programming by the end.
---
This is the perfect starting point for those who want to explore the kind of math for programmers with Python. It gives you projects to work on, emphasizing algebra, probability, and calculus.
---
This fun book on math programming will show you how to best harness the power of math for programming. You will explore mathematical concepts by using the coding language Python.
---
John Vince dives right into the nitty-gritty of understanding mathematical concepts to better succeed at computer science, and nail math for programming. He blends how it all applies to math, programming, and the real world, illustrating its importance.
---
Harry lewis delves deep into all of the significant pieces of programming math that you will need as a computer scientist. This is a quick read, with 31 short chapters, each covering a different topic.
---
In this hefty tome, readers will be introduced to the exciting and multifaceted relationship of math programming. With a gentle pace through the chapters, you will feel familiar with the material by the end.
---
This book covers everything from linear programming to its implementation in our daily lives. Readers will get a clear picture of what the marriage of math and programming is like. There are detailed and challenging proofs for you to explore and hone your skills.
---
This guide is aimed at programmers who want to make the most out of mathematical education. This also includes physics for game developers. This is an excellent resource for math programming and has further use for game developers.
---
This intro text to algebra is perfect for math programming. Although it may be a starter text, this outlines all you need to know when programming while using mathematical concepts.
---
It's no surprise that a For DUmmies book makes the list of some very complicated subjects. After this book, you'll know all the basics of calculus and can better use them for math programming.
---
Chartrand makes the topic of discrete mathematics more accessible. With knowledge of discrete mathematics, calculus, and algebra, you can better apply it to programming. It's a relaxed and casual read about a denser subject.
---
This is an excellent starter text in showing the reader the fundamentals of digital design. Familiarizing yourself with computer architecture, so you can further enhance your programming skills.
---
What better way to enhance your programming math skills than by going in-depth with the pillars of computer science? Peter Linz goes smooth on the reader here, not bogging you down with mathematical jargon.
---
Familiarizing the reader with the very essence of computer science, Tim Roughgarden aims to make the reader a better programmer through his excellent guide through algorithms and technical skills.
---
After becoming more comfortable with ROughgarden's previous works, this is the motherlode of math programming. There are fantastic and comprehensive math problems for you to solve in this complete guide.
---
This is a more conceptual text aimed at tailoring your thought process towards different problems in logic, math, and programming. This is a fantastic resource to gain scientific inspiration from.
---
Regardless of what Python version you are using, Jaan Kiusalaas's guide introduces you to essential fundamentals that you will need in math for programming. It features equations, data fitting, and more.
---
This guide introduces readers to the vital field of mathematics, numerical analysis. It's helpful to both programmers and physical scientists, containing useful knowledge for future math programming.
---
Logic is one of the most crucial math programming concepts and is tackled in this book. It's perfect for those with no prior knowledge of logic, proofs, and commands.
---
Probability is a big concept in math for programming. It's aimed at several different scientific fields, particularly engineers, programmers, and other areas of science.
---
This book is chock full of 750 trigonometry problems. It's billed as for being for those who 'don't speak math,' which is perfect for beginners. This is a good practice book if you plan on learning math for programming.
---
Since calculus is another one of programming math's fundamentals, getting a necessary hold on calculus is a must. This workbook offers the reader a chance to flex their math design muscles.