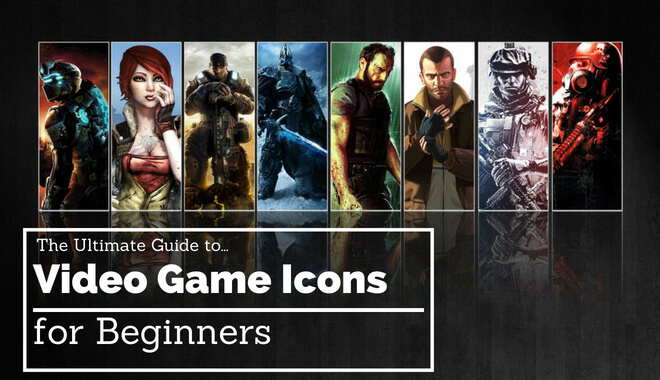 In a world of snap decisions, first impressions, and endless visual stimuli vying for our attention, there had to be a way for game devs to quickly grab your attention.
One solution: the game icon.
Game icons show up on all kinds of platforms:
They're on your computer desktop or menu bar, representing the games you have installed.
They're on your Xbox One, also representing the games you have installed.
They're on your phone, representing every single app you have on there (and things like your camera, your torchlight, etc.).
Game icons, in their simplest form, are square images that make it easier for users to identify games (and apps) quickly. It's also a way for developers to give a sneak peek of what their game is all about. And, finally, it's a way for players to express themselves…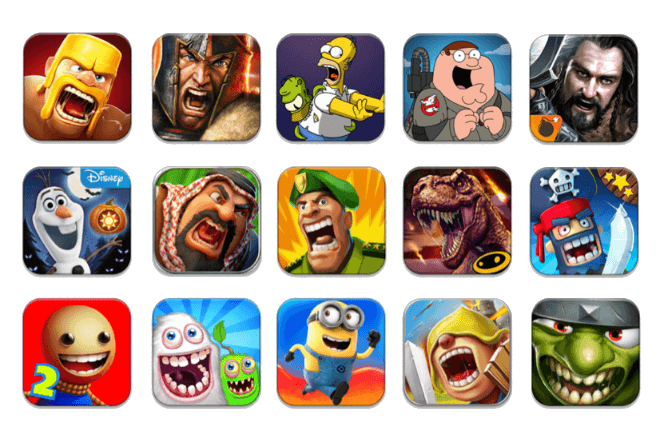 Often times, when creating a profile on a newer console, you have the option of picking an image to connect to the account. This can be anything from Ganon (on the Switch) to a soldier from a Tom Clancy game (as one Xbox one), and all the cartoon animals in between.
Guidelines from the Phone Moguls
---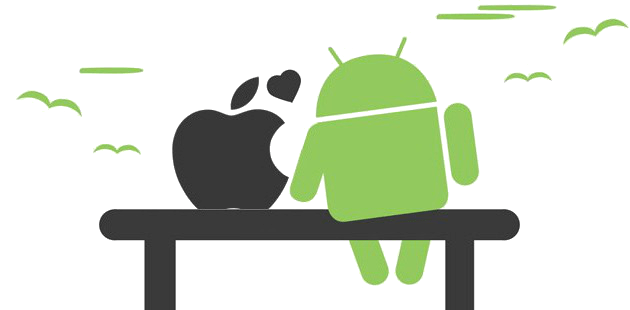 The Android developer guidelines cover Icon design, as does Apple. Both guidelines can give you a better sense of how to think about icons when it's time to design your own.
From Android: "Creating a unified look and feel throughout a user interface adds value to your product. Streamlining the graphic style will also make the UI seem more professional to users…You can use several types of icons in an Android app…You should create separate icon sets for high-, medium-, and low-density screens."
Apple says "Every app needs a beautiful and memorable icon that attracts attention in the App Store and stands out on the Home screen. Your icon is the first opportunity to communicate, at a glance, your app's purpose. It also appears throughout the system, such as in Settings and search results."
Apple's introduction to icons gives you a better sense of what the goal is, and the contexts in which you need to imagine your icon as you design it.
Best Practices for Designing Game Icons
---
There isn't technically a wrong way to put a game icon together (outside of messing up the technical parameters). But there are definitely some "better" and "best" ways to create an icon for your game.
First of all, what are you trying to accomplish?
Let's assume you're publishing a game to the marketplace and you want people to download it and play it all the time.
You're going to need an icon that stands out.
App stores are flooded with new apps, with even more being developed and published all the time. People don't have time for boring, confusing, or repetitive icons.
The other thing about the app store…it's full of knockoffs! If a game is a hit, iterations come filing in soon after. Granted, when mobile games are a hit you're talking about billions of dollars in revenue from the game…
But still. Be aware of that. Often what happens is the icons for these games will look suspiciously similar, too.
Researching your competition is a great way to see what they're using for icons. Look for similar trends (in the case of Clash of Clans and co., an open-mouthed warrior face). And either do something totally different or find a way to put your own unique spin on the icon.
The yelling warrior icons have likely been tested and shown to be a great design for getting clicks. So, even as we joke about how annoyingly similar all the icons are…those knockoffs are still getting downloaded, and probably earning money, too.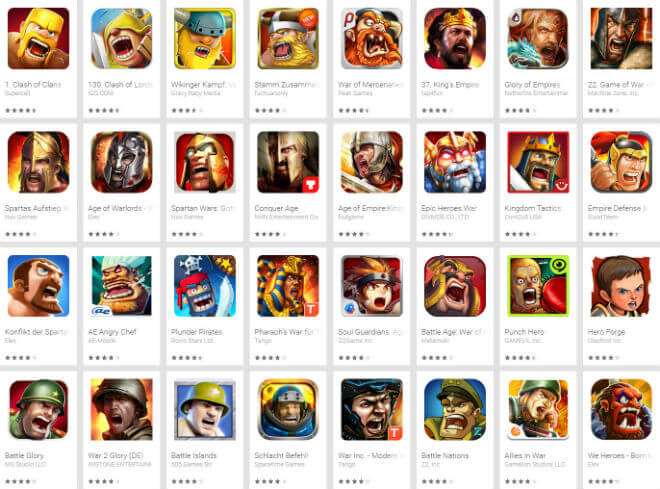 They lose points for being unoriginal, but they're not trying to be original. Their constant pushing of buying in-game currency shows they're probably just in it for profit.
As an original game developer, you'll have an opportunity to put your best foot forward with your game icon, and you don't want to squander it!
Advice for Designing a High-Performing App Icon
---
Apple has done a lot of things right to get where it is today. One element it has nailed over the years is UI design. It's clean, it's aesthetically pleasing, and it's easy to use. The app icons are a huge part of that.
They have a whole series of tips on their icon guidelines page, and we'll look at a few below.
"Embrace simplicity. Find a single element that captures the essence of your app and express that element in a simple, unique shape. Add details cautiously. If an icon's content or shape is overly complex, the details can be hard to discern, especially at smaller sizes."
This advice is echoed throughout the design world and has been backed up by research on the Top 100 Apps.
"Provide a single focus point. Design an icon with a single, centered point that immediately captures attention and clearly identifies your app."
The concept of focusing on a single element is good advice for more than just game icon design. If you're trying to do too much, it becomes confusing and diluted. A diluted message is less potent than a clear, focused message.
Let your icon say one thing, and get it to say that one thing very well.
And one more relevant tip: "Design a recognizable icon. People shouldn't have to analyze the icon to figure out what it represents. For example, the Mail app icon uses an envelope, which is universally associated with mail. Take time to design a beautiful and engaging abstract icon that artistically represents your app's purpose."
The "abstract" part of that is important to remember. This worked out well for the Snapchat ghost.
The ghost allegedly signifies the "here one minute, gone the next" aspect of their photo sending service. It's certainly a differentiator in the world of sending pictures. And, while many users aren't puzzling over the mystery of the ghost (or even thinking about it), it has become a very recognizable icon.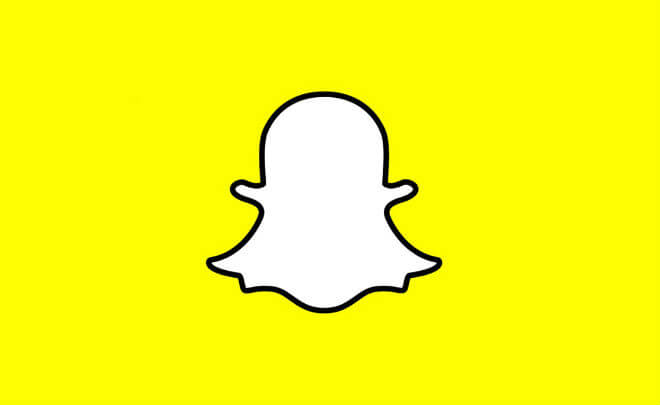 And, those who do seek the meaning of the ghost get an "ooooooh" moment when they learn the motivation behind the image.
On the other hand, generally speaking, people don't see a confusing, convoluted icon and say "I have no idea what's going on in this picture, let me download the app!" That isn't exactly rational behavior, and it typically doesn't happen.
So as you're thinking of abstract ways to represent your game…remember all the advice: Simple, focused, recognizable.
You know your objectives for a game icon, now how do you go about creating one?
The DIY Game Icons
---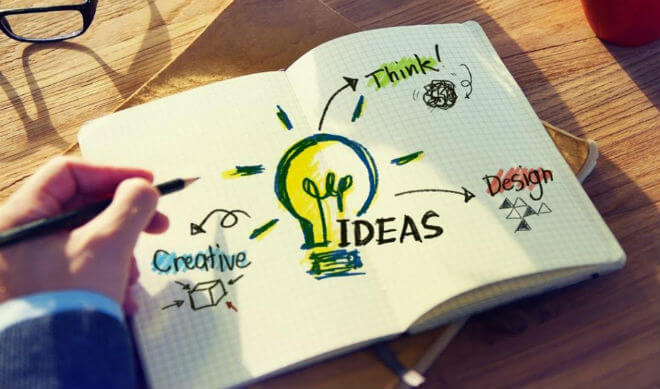 Creating a game icon all by yourself isn't the only option, but if you're on a low production budget, it can help you save some money. First, you're going to need to pick some software.
There is the editing powerhouse Photoshop, although if you don't already own this you might not want to shell out for the latest version.
There are also free options out there:
There are probably other free photo editing platforms out there, but these three are the most common and most recommended for beginners.
They're all viable options, they essentially have the same features, and they're all free. You can spend some time with each one and pick your favorite or you can pick one randomly and stick with that (ignorance is bliss). It doesn't matter, they can all get the job done.
They won't be as good as Photoshop, but they'll work in a pinch.
If you really don't know where to start, you'll want to fire up the ol' YouTube. There are YouTube tutorials that will teach you how to design game icons from scratch. There are also YouTube videos that can teach you a thing or two about color composition.

If you have photoshop, there are some great tutorials on putting an icon together. If it's for personal use, you can usually use game assets/photos to create cool new icons for your desktop games.

If it's for public use, or for profit, you'll need to develop your assets from scratch (or grab some from a free resource). You can also pull assets directly from your game to use. But remember, keep it simple, and keep it focused.
The Temple Run icon, for example, isn't an icon for a guy running around a maze collecting coins. It's a picture of this super iconic ancient temple face. It makes sense, it's recognizable, and iterations of that face appear all throughout the game.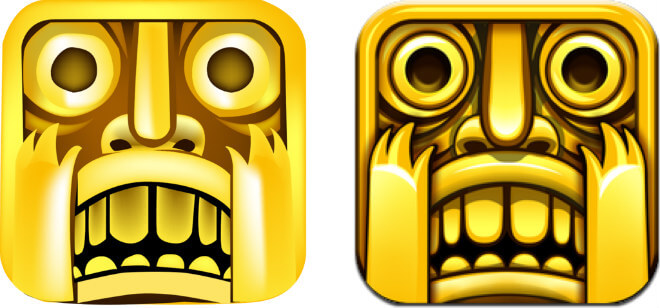 What asset from your game communicates a focused idea in a recognizable way?
Before you get scared of trying to render a game asset as an icon all by yourself, think about the alternative: hiring a professional.
Hiring Someone to Design Your Game Icon
---
There are a few freelance platforms that can help connect you with an artist well-versed in icon creation:
Upwork (where prices vary, usually depending on experience, quality, and location of the artist) and Fiverr (where everything used to be 5 bucks, but now artists can pick the price on their packages now).
With Upwork, you post a job saying you're looking for a game icon. You can set your project timeline, your budget, and give prospective artists a sense of what you're looking for. Then, freelancers with relevant skills and interest in your job can send you proposals and samples, and bid on the job to win your business.

With Fiverr, you're looking through a marketplace of talent "sellers" within certain categories (in this case, art and design), and you can find styles you like and contact the artist with your job details.

These platforms and the other freelancing platforms out there offer an easier and more protected way to connect with talent (your money is held in escrow by the platform until you approve the submitted work and approve the request for payment to transfer).
These platforms are also really affordable. You can get high-caliber work for a very reasonable price. They're a great option if you don't have time to do it yourself, but have the resources to outsource the work.
Getting Icons for Free (with Proper Credit)
---
Online icon repositories, like Game-Icons, allow you to freely use the icons in their database. All you need to do is give credit to the original author.
Game-Icons certainly isn't the only option out there, but it's simple to use and offers some customization. It's a fine place to start your search.
You can pick an icon and make changes to the background (with options like stone and wood). You can also change the colors of the icon, add gradient effects, adjust shape, orientation, and size, add custom text, and more.
For a free, ready-to-use asset library, it's a pretty good choice. There's no guarantee any of the icons will match your game, but at the very least it can give you a better idea of what you're looking for.
Getting Icons….For a Price
---
Sites like GameDev Market have asset packages designed by talented artists available for sale (some for free, too). You can search by genre, price, recently added, etc. to find what you're looking for.
Again, there might not be a perfect fit, but you could find some inspiration for your own icon. The site also recommends similar packages based on the asset packages you click on (similar to Amazon's related search feature), which makes the search easier.
Game Icons are Worth Spending Time On
---
If you're serious about the success of your game, you don't want to squander the opportunity that your game icon provides.
It's a chance to catch the attention of potential gamers. It communicates the spirit of your game. It could become a recognizable image the world over!
Don't be afraid to spend some time brainstorming your icon. Look for inspiration on your own phone. Look up popular games in the app store. What design conventions are they taking advantage of?
We aren't saying rip off other people, we're saying you don't need to reinvent the wheel. Come up with a couple of versions, and ask your friends or ask on forums for feedback. Do that step even if you hire someone to design your icons for you.
Settle on your favorite. Then publish!