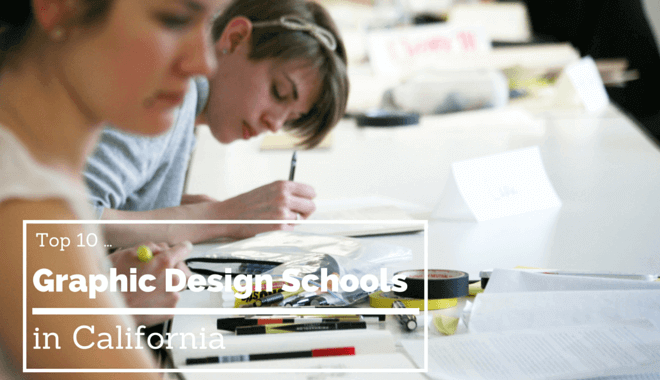 Ordinarily, when faced with the quantitative restrictions of a single state, you'd think the pickings would be slim. Really, that's a fair assumption. Even in a huge state like California, there are only so many schools, right? And so, there probably aren't very many at all that offer graphic design degrees, right?! Well…No. Our instincts were wrong.
There are a ton of graphic design schools in California! It's really something else. It is likely a combination of the size of the state and the popularity of the field. And, of course, the concentrations of industry jobs in places like Los Angeles.
As a state, California is home to more graphic designers than any other state (salaried graphic designers, that is. Kind of hard to track the other ones!). In any case, we took a look at a bunch of California schools offering Graphic Design Programs. In short, you have a wealth of solid options, and they'll likely only get better as time goes on.
Some of these schools have incredible stats when it comes to elements like graduates finding jobs in their chosen fields after college. Others offer exceptional education programs and great resources and facilities. Others still have been reviewed favorably by outside publications and insider peers alike.
This list only takes a look at ten graphic design schools, and there are many more out there– even just in California alone. Don't take this list as the be-all end-all, completely comprehensive, totally exhaustive list. No, there are plenty more schools around the 'States that deserve a peek. But for now, you can start here. On to our list!
Featured CA Graphic Design College
---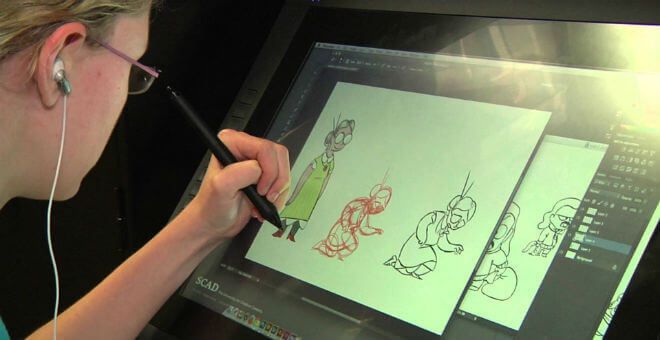 Program: Graphic Design, Media Arts & Animation
Degrees Available:
About: Boasting around 50 locations throughout the U.S. and Canada, The Art Institutes is arguably one of the biggest system of art colleges on the globe. While not every location offers the same degree programs, almost every California campus has a program perfect for aspiring digital designers.
The Art Institute of California offers a Bachelor of Science in Graphic Design, Media, and Animation that's perfect if you want to learn everything there is to know about drawing, design, motion graphics, and digital production.
Those skills are the key to producing captivating 2D designs and animations. The program eventually moves on to computer generated 3D designs and animation where you'll learn how to create characters and objects with cutting-edge programs and software.
Graduate & Earn a Living as an:
animator
digital media producer
computer animator
computer artist
special effects artist
video game artist
graphic designer
digital photographer
Popular CA Locations:
San Diego
San Francisco
Hollywood
Los Angeles
Sacramento
Silicon Valley (Sunnyvale)
Inland Empire (San Bernardino)
The Art Institute also has ties with leading design studios to provide internship and potential job opportunities to students and graduates.
If none of the locations mentioned above are a possibility, you can also consider the Animation program offered at the Orange County campus in Santa Ana or the accredited online degree option.
Have Questions?
To find out more about this program:
1. Click the 'Get More Info' link below
2. Select your desired campus location (or online)
3. Complete the short form – That's it!
You'll receive a free animation degree information packet and a designated rep from the school to answer any questions you can think of – all for free.
Our Favorite Design Schools in California
1. California Institute of the Arts
---
Department: The School of Art
Website: https://art.calarts.edu/programs/graphic-design
Degrees:
BFA in Graphic Design
MFA in Graphic Design
MFA in Graphic Design with a Motion Graphics Specialization
About:
The BFA Graphic Design Program at California Institute of the Arts is small; the cap is typically 15 students. And just because you make enrollment into the BFA program doesn't mean it's smooth sailing for you, either. There is a faculty review of your work at the end of every academic year. And if you don't pass? You don't get to keep going.
If you think being one of many students vying for one of only 15 spots is daunting, then pity the graduate students. The graduate program is about half the size. That's right, there is an 8 student cap!
2. California College of the Arts
---
Department: Graphic Design
Website: https://www.cca.edu/academics/graphic-design
Degrees:
About:
California College of the Arts offers its top-performing students internships from its Graphic Design Internship Program. Tech companies, publishing houses, museums, and even design firms offer up opportunities for students to engage with the designers employed by the companies and institutions.
This affords you an opportunity to not only build a relationship with a working professional in the field, but also to network with organizations that might need your help in the future. The more opportunities you line up for yourself, the easier it is for one to fall into place.
3. San Jose State University
---
Department: Department of Design
Website: http://www.sjsu.edu/design/design_programs/graphic_design_program/
Degrees:
About:
The curriculum at San Jose State University within the Department of Design is always changing. The faculty at the university recognize the non-stop movement of the industry, and so they always update the technology and the innovative practices to keep abreast of the goings-on in the field outside of academia.
Because San Jose State University is right in the middle of Silicon Valley, there is good opportunity for collaboration with the technology and design industries. The University recognizes this and is always making efforts to broaden their design community.
4. Chapman University
---
Department: Department of Art
Website: https://www.chapman.edu/wilkinson/art/graphic-design/
Degrees:
About:
Be prepared to cover a wide range of Graphic Design topics as you enter Chapman University. Everything from book design to motion design to web design will be covered. Your time at Chapman University will be all about cultivating your personal voice while honing your verbal articulation and conceptual design skills.
5. Academy of Art University
---
Department: School of Graphic Design
Website: http://www.academyart.edu/academics/graphic-design/undergraduate-degrees
Degrees:
AA in Graphic Design
BFA in Graphic Design
Certificate of Graphic Design
MFA in Graphic Design
About:
Academy of Art University offers a two-year program that earns you an AA in Graphic Design. AAU says earning your Associate of Arts degree will see you mightily equipped to handle the BFA graphic design program. If you're looking for a four-year program in graphic design without the liberal arts coursework, you can opt for the Certificate of Graphic Design.
You will still take art history courses and a number of electives, but you'll skip the liberal arts classes.
6. Otis College of Art and Design
---
Department: The Communication Arts Department
Website: http://www.otis.edu/graphic-design
Degrees:
BFA in Graphic Design
MFA in Graphic Design
About:
The Communication Arts Department only offers three programs, and Graphic Design is one of them. Paying the tuition of around $40,000 dollars will see you working on skills like logo development, website design, app design, and interactive design. Presentation skills and articulation skills are both stressed.
That might seem nerve-racking, but the sooner you can handle presenting and pitching in front of people, the sooner you'll be set up to succeed. Otis College is prepared to push you out of your comfort zone.
7. California State University, Fullerton
---
Department: College of the Arts, Department of Visual Arts
Website: http://www.fullerton.edu/
Degrees:
BFA in Graphic Design
MA in Graphic Design
MFA in Graphic Design
About:
Upon enrollment at California State University, you'll be placed in the BA of Art Program. There are four prerequisite courses you need to complete before you can request a "change of objective" and switch to the BFA in Graphic Design. The four courses are: Beginning Painting, Beginning Drawing, Two-Dimensional Design, and Three-Dimensional Design.
You also need to achieve and maintain a 3.0 GPA in order to request the switch. If you meet the requirements at the end of your fall semester, you can initiate your request with any full-time department faculty.
8. Art Center College of Design
---
Department: ArtCenter
Website: http://www.artcenter.edu/
Degrees:
BFA in Graphic Design
MFA in Graphic Design
About:
Small studio classes is the name of the game at ArtCenter. The ArtCenter's approach to education incorporates strong social and humanitarian elements. The nature of that approach means you can expect a good amount of interdisciplinary collaboration with students from all different majors at the college.
This sharpness of focus on your own skills, but inclusion of ideas across disciplines, will help you develop both critically and creatively. Tuition for students is about $40,000 annually.
9. Woodbury University
---
Department: Woodbury Graphic Design Department
Website: http://mcd.woodbury.edu/bachelor-of-fine-arts-in-graphic-design/
Degrees:
About:
The publication known as Graphic Design USA named Woodbury University in its list of the top 25 Design Schools for 2015. Woodbury prides itself on helping you build a portfolio that stands out in the workplace. With the competition in the market the way it is these days, any old cookie-cutter portfolio won't cut it.
Luckily the class sizes are small, so you will have access to individual attention from faculty. The LA location also means you can tap into some great networking and internship opportunities, with the help of the University itself and with the weight of the Woodbury University name behind you.
WU also incorporates civic engagement into its curriculum, giving you real-world experience with impactful graphic design. If name recognition and humanitarianism scratch you where you itch, give Woodbury University a closer look.
10. Laguna College of Art and Design
---
Department: Art and Design
Website: http://www.lcad.edu/site/design-digital-media/design-digital-media-program-overview/
Degrees:
Bachelor's Degree in Graphic Design and Digital Media
Bachelor's Degree in GD with Illustration Emphasis
Bachelor's Degree in GD with Action Sport Design Emphasis
About:
LCAD gives you a couple different program options within the umbrella of Graphic Design. As seen above, there's an Illustration Emphasis and also an Action Sport Design Emphasis (one of which happens to be more of a mouthful than the other). LCAD has a very impressive "graduates with jobs in their field" rate.
Over 98% of their "recent" (their language, they didn't specify the years-window) graduates from the Graphic Design Program work in their desired field. Very few schools can boast a claim like that, which is pretty indicative that, like with the other schools on the list, the Laguna College of Art and Design has something special.