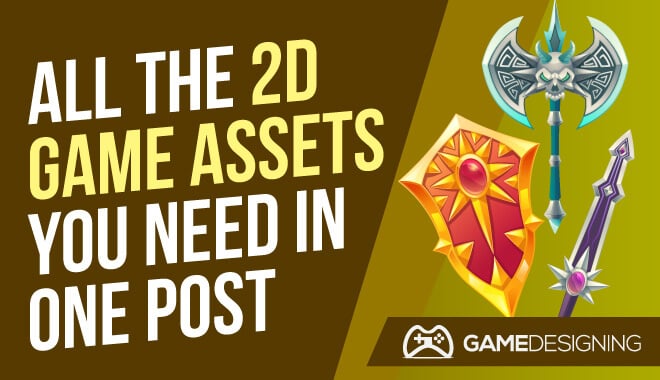 If you're a budding game developer, chances are that you want to get right into the thick of it. Who wouldn't want to? However, are you ready with the proper 2D game assets?
Wait, Assets?
---
Yes, gaming assets. These are basically everything from trees to characters that populate a game. It can be a lot of work compiling all the assets you need for your game, as they encompass nearly every aspect. I'm talking about sound effects, explosions, dialogue, and more.
Examples of 2D Game Assets
---
If you're dead set on creating a 2D game reminiscent of Final Fantasy or Braid, you're going to want to stock up on some great 2D game assets. Depending on the style of game, you're going to probably end a ton of gaming sprites.
Assets from a famous 2D game would be the user interface icons, game backgrounds, and character sprites from an early Mario game or a Castlevania title.
Basically, you can experiment and use tilesets from your favorite pieces of game art to cobble together something unique.
Some Great 2D Game Asset Resources
---
There are luckily a lot of places to snag some great 2D game assets. Here is a definitive list of where you can get a hold of 2D game assets. This list will fulfill any game development needs you may have.
We'll include the type of 2D game assets you can download, the site, and give a preview of some of the most noteworthy sprites, tilesets, and asset packs.
---
Brought to you by the famous game engine, the Unity Asset store is a prolific way to snag some impressive 2D game assets. No matter what art style you want your game to be, you can definitely find something worthy of a download.
Unity 2D assets range from sprites and tilesets to fantastic art and user interface files. Some files are free to download, and others require a small fee. However, don't worry. The paid files are pretty reasonably priced. You can download a lot of art and tilesets for under $20.
Here are some of the community's favorite packs.
GameDev Market
---
Marketed as "Game assets for indie game developers," GameDev Market provides would-be game designers with tools they need to succeed. They provide both free and paid assets. Here are some great, top-rated options.
---
As you can probably surmise, open game art is a completely free and open resource for tilesets and 2D game assets. It has a great number of various 2D assets, from barrels to game backgrounds. Let's look at some of the most popular download options on Open Game Art.
Final Thoughts on 2D Game Assets
---
Whether it's GUI (graphical user interface), platformer tilesets, music, AI functions, or character packs, 2D game assets will serve you and your game tremendously.
For free, or a nominal price, you can download a ton of great 2D content and art for your game. An asset download is just the beginning of your game design experience, however.
Put these 2D game asset tools to good use and create the next big gaming experience.