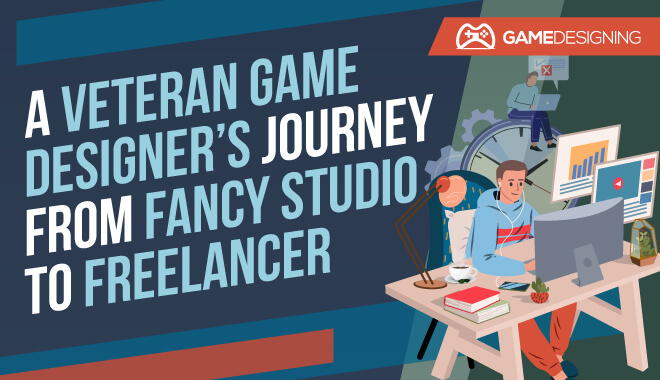 For the first time in his 20-year career, Darrell finds himself in between jobs, taking on freelance work as much as he could.
"It's new territory for me as I'm very much used to being in an office with a large group of people," says the former Lead Level Designer from Sheffield, UK. "But seeing as the world is working from home at the moment it seemed a good time to try it out."
He is only one of the many in the workforce impacted by the pandemic. While the video game industry saw a rise in the demand for more video games in 2020, it's mostly the game studio giants who are thriving and have seen big success in their businesses.
The Rise: From Game Tester to Designer
---
But Darrell doesn't see himself as a victim of company downsizing. In fact, he's currently working on his own video game and is considering becoming his own boss. As a veteran in the industry, he knows what hard work is.
"Back when I was starting out, there was no such thing as a degree in video game design so I had to approach it in the (at the time) standard way – game testing!"
He got his break in the industry in 2000 as a Game Tester at Infogrames UK and worked his way up to senior test positions. "I've worked as a professional Game/Level Designer since 2005, from a Junior position up to Lead Level Design roles."
He worked long hours, barely making any decent income, constantly replaying the same bits of broken game. But he loved it! He relished the reaction he got from people when they asked him what he did for work.
He's a great team player at work and enjoyed spending the time after work with his colleagues for a happy hour.
But the bar was more than a place for him to wind down, it became an opportunity for him to prove to the designers that he has what it takes to become one of them. He engaged in meaningful conversations with them about work. He rose through the ranks and became a senior designer.
Game Design Career

Video Game Companies
---
Darrell has worked at Rebellion, Revolution, Infogrames, EA, Sony, Cloud Imperium, and a couple of smaller companies. Among the titles he's worked with are:
"Broken Sword 3 (Revolution Software), Call of Duty: World At War PS2 (Rebellion), Black Hawk Down: Team Sabre (Rebellion), Starship Troopers (Rebellion), Wipeout 2048 PSVita (Sony) and Star Citizen (Cloud Imperium) to name a few."
He's held mainly Senior Designer or Senior Level Designer positions on some of those companies with project lengths varying from short-term: 6 to 12 months; or a longer-term of up to 5+ years.
Team Player
---
He's been in 10-man teams all the way up to multinational of over 300-people teams and each place and office culture has its own unique flavor.
Game Engines and Design Tools
---
He has worked with many game engines, mostly in-house ones that have varied in quality and functionality:
"Most companies I have worked at have had their own proprietary tools, sometimes using middleware to bridge gaps in the tech, and as such it's like starting again each place you go – which is half the fun!"
Typical Work Day
---
So, what does Darrell do on a normal day? Drink a lot of coffee, of course!
"Over the last 20 years it would generally involve a lot of coffee, a lot of talking with fellow designers about our assigned work, be it a level or a particular mechanic or issues with them, followed by hours of headphone-wearing, music-blasting, non-blinking dev work!"
Working in a highly collaborative industry, a lot of time is spent in level and game meetings involving seniors from each discipline to plan and discuss current progress and issues.
"I always loved the days more when I was a few weeks into some level design that was going well and I was able to be creative and try things out for review, confident in my vision for the level in the wider game," he added wistfully.
Freelance Tools of the Trade
---
When asked about his engine of choice at the moment, he said:
"Unreal Engine 4. It is a fantastic environment to work in and has really helped designers like me see their games come to life without the need for advanced programming skills – which I don't have!"
When prototyping assets, he relies on Maya rather than Max as the modeling tool. "This is just personal preference as I used it extensively when I was making collision meshes for Wipeout 2048 so became pretty familiar with it," he said, defending his choice.
He uses Photoshop for texture creation and UI creation and editing; and 'free for commercial use' fonts from various websites: "as there are so many good ones so no need to pay for them."
When it comes to music, he does think it's worth investing in a few audio assets to ensure he's getting premium quality.
Not All Companies Are The Same
---

It's no secret that most, if not all, who work in the video game industry are there because of their passion for video games. Getting paid to do what you love is the ultimate dream job.
Darrell thinks so, too: "The best is that most people who work in the game industry are passionate about games and have been since being a child, so there are already a lot of common bonds between employees from the get-go."
However, not all companies are the same:
"Overtime is expected at most companies (though it has got better IMO in a lot of places) and in some, it is even written into the contract of employment that 'reasonable' unpaid hours are expected to be worked in addition to contracted hours when required."
Even with the best teams, working in a high-pressure environment can lead to burnout. When he was just starting out, he would breeze through a day, and on some projects, through the night, and nothing could take the fun out of his work.
But marriage and having kids can tip the scale of work-life balance against your favor.
"I've worked several 48-hour shifts, and on some projects I have worked 15 – 20 hours each day, gone home and collapsed on the bed, and got up a few hours later to start it all again – sometimes for weeks at a time. That's the reality of how it can be, but not all the time obviously and some places are better than others and some even pay overtime. Others just provide food, which is nice but is not the same as seeing your kids on an evening!"
"Survival of the Fittest"
---
Don't burn any bridges – that was the best advice Darrel was given in his 20-year career. Community is the foundation on which the gaming industry is built. You need each other in order to thrive.
He reasoned: "Firstly it makes the working day much more enjoyable but secondly, reputation is half the battle in the games industry as it is fairly insular and often the same people will be working together on multiple occasions at completely different companies at different times."
You never know who's hands your CV is going to fall into when you apply for a job, it just might be somebody you worked with previously and at that moment you're going to want them to remember you fondly.
His Unique Advice for Beginners
---
With the augment of technology, the development landscape has changed so much since Darrell started. When before you need to fight tooth and nail to be elevated to a higher designation, new recruits today take the fast lane to promotions.
"You are classed as an experienced designer when you have worked for a couple of years fresh from college/university…That is in stark contrast to when I became a designer, where you were regarded as a rookie for many years and many projects down the road!"
His advice to the newbies? Be humble.
"Never be afraid to admit you don't know something, and build great relationships with the coders and artists, because having that mutual trust between the disciplines REALLY helps when you've done a 48-hour shift for a deadline and you need some support, believe me!"
The Future of Gaming
---
We all know it's virtual reality. With the ubiquity of VR technology, does this mean the future is now? Darrell thinks there's still room for improvement:
"I think VR will have another wave in the next 5 – 10 years where the tech improves and some of the issues holding it back now will be removed. Whether you like it or not, immersion is important, and actually having the image right next to your eyes and trying to fool your brain into believing you are there is the goal for some. This will get more sophisticated but will not be the holy grail for a long time to come."
There is no telling what the next tech advances will be and the impact they will have on the gaming industry. With the world slowing down, it seems innovation is also taking a pause.
Darrell opined that: "There was a time when there were exponential improvements over short spaces of time and each 'generation' felt light years ahead of the previous one. That has slowed down in recent times but maybe we're just awaiting those cyborg-like implants wiring data straight into our brains?"