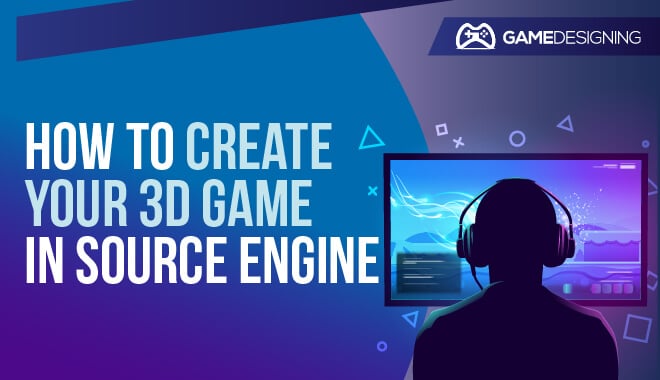 We are reader-supported. Purchases made through links on our site may earn us a commission. Learn More.
Source Engine History
You may have heard of Valve. The Orange Box, Half-Life 2 Episode One and Episode 2, Left 4 Dead, and Portal. All of these are not only fantastic games but influential pieces of media that have shaped gaming.
Initially starting as the GoldSrc engine with the first Half-Life game, Source and Source 2 have come a long way.
Valve's Source engine has roots in other engines. At the same time, you may see unique aspects and features in Valve's engine, John Carmack's Quake engine.
Launched in June 2004, Valve's Source engine gave players and developers new, exciting tools and games to work with.
Source Engine Tools and Resources
So, you want to make your own 3D games, animations, and objects in the Source engine? Good, because it's a great option to choose.
There are a few things to consider, like what game you want to create. Let's look at some useful Source engine resources to help you along.
Source SDK Tutorial – First Map tutorial using Hammer

For those who want a crash course in creating maps using Windows, this is a great way to harness the power of Source. User 3kliksphilip shows creators how to populate different maps with objects, animations, and various effects. We recommend you follow all of 3kliksphilip's videos for a comprehensive series of Source tutorials.
The Valve Developer Community
This is a fantastic community to get you started on the right path in game development. Not only does this specific tutorial show you the basics, but it introduces rookie developers to a great and comprehensive community of like-minded creators.
Source 2 Engine
The Source 2 engine is the successor to the original Source engine build. Valve announced the second build of the engine at the 2015 GDC.
Valve allowed for Source 2 to be used for free, with the only caveat being that the game developers have to launch it through Steam. However, Valve focused on developing their own games before unleashing Source 2 to other game developers.
So far, Valve released just a few games using the Source 2 engine: Half-Life: Alyx, Robot Repair, Artifact, Sandbox, DotA Underlords, and a 2015 version of DotA 2 (titled Dota 2 Reborn).
These titles aren't just PC exclusives anymore either: Valve made it clear that every one of their games in the future will launch for Windows and Mac by default. Add to that the further developments and compatibility, and you have games run on Windows and Linux.
Games On Source Engine
Source engine games are some of the most popular titles in the gaming world. While Unity, Unreal, and other engines have fantastic games in their repertoires, the Source engine has genuinely unique and creative games. Let's take a look at some of the best and the brightest.
Half-Life 2
Windows, Xbox, Xbox 360, PlayStation 3, Mac OS X, Linux, Android
Half-Life 2 is the fantastic second outing of the silent protagonist, Gordon Freeman. It's a unique mix of science fiction, adventure, and action. There are also insanely creative levels and impressive animations (courtesy of the gravity gun). Just thinking about fighting your way out of the lost city of Ravenholm is enough to keep you up at night.
Valve created one of the most beloved single-player game experiences in recent memory. Non-player character AI felt fresh, and most importantly, lifelike.
Valve even added two accompanying expansions, Episode One and Episode Two, to extend the characters and storylines. Episode One scenes running on the Source engine exhibited just how good the engine is for its intended purpose. Now….where is Half-Life 3?!

Counter-Strike: Source
Counter-Strike: Source was the game that launched it all. Pitting teams of terrorists and counter-terrorists against one another, some of the most iconic and memorable Internet gaming moments sprang out of these Valve games.
It's technically a proper remake of Valve's 2000 PC game, Counter-Strike. The original was a mod of Half-Life, and it was an absolute hit with gamers everywhere. While the concept of a deathmatch lies with gaming visionaries John Carmack and John Romero, Counter-Strike's addictive version of this game mode made it a global sensation.
Counter-Strike: Source proved to be just as popular, if not more. Valve created even more Counter-Strike spin-offs and sequels, including Counter-Strike: Global Offensive (CS: GO), Counter-Strike: Condition Zero, Counter-Strike Online, and Counter-Strike Neo.
Garry's Mod
This game is a little different from what you're used to. Garry's Mod is an insane sandbox romp that combines anything you can think of. It's a haven for modding, game creation, and overall chaos.
The Garry's mod community can tweak physics, animations, code, textures, models, renderers, and more.
This game is the perfect showcase for what's possible with the Source engine. Games like Portal have cohesive storylines and characters, Garry's Mod gives players a chance for maps of New York City to become the battlegrounds between Winnie the Pooh and Max Payne. I wish I were kidding.
The Source Game Engine Impact
In just over 20 years, the Source engine drastically changed the gaming landscape for the better. From its more humble origins as GoldSrc to the current Source 2, this game engine has been the tool of visionaries and creatives.
Using these resources and tutorials, you too can join the ranks of this talented community of game developers. Remember, all you need to do is market your game through Steam, and you'll be good to go. Now, who's up for a quick game in Counter-Strike: Global Offensive?