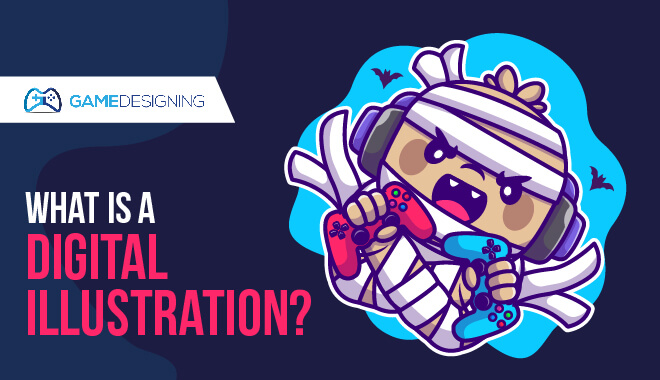 They say a picture is worth a thousand words, and no one knows this better than digital illustrators. They are one of the most common jobs sought out by artists, for one simple reason.
Illustrators get to inspire imagination with the images they create and act as a storyteller to influence their favorite games, movies, books, and shows.
So what makes this such an appealing job for artists, and how do you become one?
What is Digital Illustration?
First of all, what is digital illustration anyway? In the most basic of terms, digital illustration is any image created using software instead of, say, paint and canvas. Although some artists prefer to create art by hand and then finish editing them with software.
Using drawing tablets and a mouse as opposed to stencils has its advantages, digital illustrations can be created much more quickly, and in a number of different styles. But this is just the most baseline use of the term digital illustration.
In practical terms, what it really means is to use software to create images that tell a story, either by focusing on a character or environment.
These images are then used to help sell a product–such as the art that goes onto playing cards or book covers; or to inspire the tone and look of a dramatic scene in a game or movie.
It should be noted that while there is a bit of crossover between concept art and digital illustration, they are slightly different. Concept art is used to give the viewer the general idea of what something looks like, while digital illustration uses images to tell more of a story.
It portrays a feeling and a mood and is generally a more complete-looking image. But both have their place in the production of games, films, book covers, advertisements, and more.
Digital illustration is also not quite the same thing as graphic art, which tends to be used more in advertisements to portray a simple idea using shapes and lines, as opposed to a narrative using hand-drawn images. If you're looking to use software to tell a story through an image, it's digital illustration.
The Two Types of Digital Illustration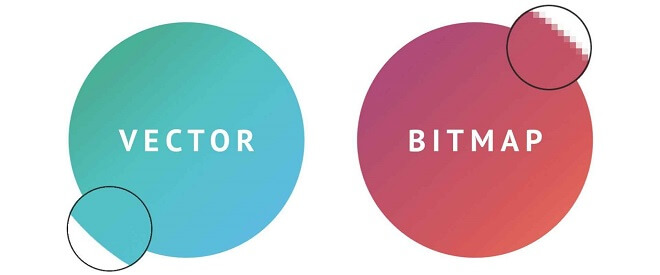 There are actually two specific types of digital illustration, Bitmap, and Vector. Both require different software and are used to create different styles of illustration. Most professional illustrators are well versed in using both, though some choose to specialize in either one or the other. Here is a brief explanation of the differences between these two types.
Bitmap/Raster
Bitmap illustrations sometimes referred to as Raster is made out of pixels, tiny dots that together form the image. This allows you to have a lot of color graduation and gives you a ton of choices for what tools the software has that you can create your art with.
But unfortunately, it also means that when you resize the image there is always some loss in quality.
Illustrators tend to prefer this software when they don't care about as much about the clean lines that vector software offers and instead want to give their drawings more of a watercolor or hand-drawn, painted or even charcoal look.
This software also allows you to add and edit photographs, allowing for very realistic illustrations.
Vector
Vector images on the other hand are made up of lines and shapes. Mathematical formulas in the software tell the computer where these lines are placed as well as their size, making the lines incredibly clean. Much more so certainly than you could do by hand.
One of the biggest advantages of this is it means you can resize an image much more easily without any loss in quality, but it tends to be better suited to 2D images and simpler art styles. That's because the lines of vector art tend towards being very angular and straight, as it's all calculated by the software, as opposed to the hand-drawn or watercolor look that's possible using bitmap.
For those reasons, Graphic artists tend to prefer vector design software, though it's not uncommon for illustrators to use it as well, even in big productions. It's often seen in advertisements, book covers, and pop art.
Digital Illustration Tools, Software, and Apps
Generally, digital illustrators will use a graphics tablet to do their work. Graphics tablets allow the artist to draw images by hand in a similar way to drawing on paper or painting on a canvas. But using a graphics tablet, they are aided by the different digital brushes, paints, and techniques that their choice of software allows.
As far as this software goes, Adobe Photoshop is the most commonly used by digital illustrators today. In fact, having proficiency with photoshop is practically a must for this career but Pixlr is sometimes preferred by illustrators who like to use Raster Graphics.
For those who want to specialize in Vector graphics, Inkscape is the most commonly used piece of software, with Vector and Carbon being close seconds.
What Is A Digital Illustrator?
One part artist, and one part storyteller, a digital illustrator uses software to create images that inspire. You can see their work everywhere. An illustrator might make the cover of a book that manages to catch your eye even in a library. They might make the box art of a videogame, toy, or film. Sometimes they create film posters or the images you see on card games like Magic the Gathering and Yu-Gi-Oh!.
Here are a few famous digital illustrators, as well as some familiar works:
Joey Chou is a prolific digital illustrator who typically uses Vector in his art, creating breathtaking work with fairly simple shapes. He's managed to make a successful career by leaning into this unique and memorable art style.
So much so in fact that he's contributed work for Disney, Dreamworks, Bethesda, and much more, in addition to selling his own line of prints. Recently his work has been used as reference material for Spider-Man: Into The Spiderverse.
Dean Macadam, on the other hand, has a zany art style, perfect for caricatures of famous figures and children's books. He's contributed well-known political art to many of the Washington Examiner's covers.
In other words, the scope of jobs available to a digital illustrator is very wide. They can work on any number of projects, and their own personal style is what will make the illustrator stand out from the crowd. Whatever makes your work unique is more important as an illustrator than anything else.
What Does A Digital Illustrator Do?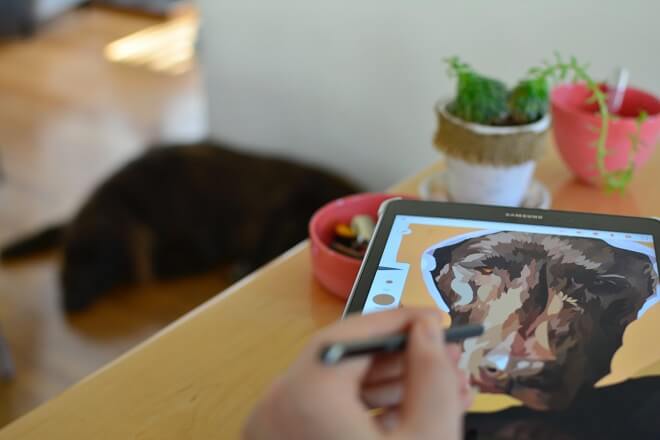 First, a digital illustrator is given a brief by their client. This is a document that tells the illustrator what their client is looking for, with notes from the editors and marketers if possible. It should give the illustrator what they need to know about the project, the project's audience, the client themselves, the general vision they have for the illustration, a due date, and what the illustrator can expect in compensation.
Sometimes these briefs come with visuals and may be given during an actual meeting with the client. Either way, the idea is to give the digital illustrator some guidelines to work within, without strangling their creativity.
The digital illustrator will then spend some time researching and gathering reference materials. This is a big part of the process, as even a creative person can struggle to create, say, an image full of alien technology, without some idea of what the materials might look like, the tone and lighting, etc. Having some reference images that inspire them can make the process go much more smoothly.
With reference materials gathered, the illustrator will begin to create the illustration. This will be their attempt at creating exactly what the client asked for, but it is actually the first draft.
One of the advantages of digital illustration is that the software allows the artist to make changes without tossing away the entire piece and starting from scratch. They can finish this first draft, send it to their client, receive notes and suggestions, and revise the work until the vision of the project is met and completed.
How Do You Become A Digital Illustrator?
To become a digital illustrator, really all you need is the equipment, such as a Wacom Tablet, the software, such as Adobe Photoshop, and plenty of practice. A strong portfolio filled with gorgeous illustration work is the most important factor in finding a job. But there are some other factors which can help.
Learn the Fundamentals of Art and Design
Most post-secondary art schools have courses that cover digital illustration, and how to use the software you'll need. Getting a bachelor's degree or a master's can certainly give you a huge boost when it comes to finding an illustration job, but more importantly, you'll be learning the skills required of you in the industry and building up a digital art portfolio.
Many schools even offer internship programs with employers and usually host their own networking events for their students. In other words, just because you don't need a bachelor's degree to become a digital illustrator, doesn't mean you shouldn't get one.
The best courses to go for are the fine arts, visual arts, or especially digital media courses. These will give you a firm grounding in the fundamentals of art and design, as well as experience with the software digital illustrators, use every day.
Where to Find Digital Illustrator Tutorials
Besides getting a post-secondary education, there are a number of guides and tutorials that can start you on your journey to becoming a digital illustrator.
Youtube Channels
These days, you can learn just about anything on youtube, and digital illustration is no exception. Emma Jane Lefebvre for example has a four-part video series on the fundamentals of illustration, as well as a youtube channel that's regularly updated with art tutorials of all sorts.
But you could also start with the two-part digital art guide by Nadiaxel. If you want something more technical, there are tutorials and guides on virtually any piece of illustration software, from Adobe Photoshop to Inkscape. Finding videos by content creators who can not only teach, but entertain you is a great way to start.
Books on Digital Illustration
If you want to learn how to be a digital illustrator, you'd be wise to pick up a couple of books on the subject. Industry professionals have gone out of their way to provide detailed lessons on these pages.
For example, in 'How To Be An Illustrator', you learn about the business side of digital illustration. It covers the best practices to follow to help get your art seen by the right people, how to nail an interview, and how the illustration business really works.
'Digital Painting For The Complete Beginner', on the other hand, is a great practical resource in the process of creating digital illustrations. There are lots of options out there, but these books are perfect for fresh artists looking to make their mark.
Digital Illustration Blogs
Following certain blogs can help you keep track of the goings-on in the world of digital illustration, as well as lessons you can use yourself.
Lines and Colors, for example, is a very regularly updated blog that talks about the techniques and practices used by artists around the world. Digital art is one of many categories of art that they talk about, but it's certainly worth paying attention to.
Digital Art Teacher focuses, unsurprisingly, on being more educational. Either way, following these blogs, will give you some strong insight into how to be a successful illustrator.
Podcasts
It might seem a little bit odd, but yes there are podcasts that can teach you about digital illustration. One, in particular, can be an incredible resource.
3 Point Perspective is a podcast committed to discussing the ins and outs of illustration. Each episode covers a different concept, such as when to give up a project, should you copyright your work and pointillism. These episodes often feature professionals who work in the industry, and they broadcast a new episode every month.
Why is a Digital Illustration Portfolio Important?
A portfolio is a collection of an artist's work, often showcased on a personal website, Artstation, or even as a physical document. It's important because, for an artist, their portfolio IS their resume. If you try to find work as a digital illustrator, the first thing an employer will ask for is your portfolio.
It's a display of your talent, work ethic, and experience in the field. For that reason, you definitely want to make sure your portfolio is of a high enough standard to land you that job. But what makes a great portfolio versus a disappointing one?
What Should Be In Your Digital Illustration Portfolio?
The first thing you should make absolutely sure of is that your portfolio only contains your very best work. Quality, not quantity, is the important part here. One jaw-droppingly beautiful illustration you created is worth a hundred mediocre ones.
If you've only made two or three illustrations that you think meet the industry standard, then you are better served to keep those three in your portfolio and leave out the rest.
The next thing you want to make sure of is that your portfolio emphasizes your skills as a digital illustrator. Many artists make the mistake of taking their best work but in a variety of art fields.
Showing you're capable of working on a few different types of projects can be a good thing, but if what you really want is to be a digital illustrator, then most of your portfolio should be digital illustrations. If an employer sees a canvas painting, a comic strip, a piece of graphic art, and an illustration in your portfolio, how are they supposed to know that digital illustration is your specialty?
Finally, don't be afraid to show your process. In fact, employers tend to love a portfolio that shows what it took to make your best work. This way, they don't just know what you worked on, but how you work, which can give them great insight into whether you'd be a good fit for their needs. Even showing your notes can give them a good idea of what you were trying to do when you started, and what changed before the end.
To get started on a digital illustration portfolio, consider using Artstation. They can give you a personal domain, with a number of different templates to help make your work stand out, as well as access to an entire community of artists and employers in all fields. But if you want to know what a digital illustration portfolio should look like, here are some great examples:
Irina French: This artist has done a number of book covers, as well as work for magazines, always with a fantasy theme. Note how immediately on the homepage you are hit with one of her illustrations, and seeing the rest of her portfolio is a single click away.
Finnian MacManus: This is one incredibly impressive portfolio. Finnian specializes in architecture, with a particular focus on science fiction. Some of his illustrations have even been used in Star Wars, the Lion King, and Pacific Rim. Since he has had a prolific illustration career, his portfolio is a veritable wall of his work, separated into different projects he has worked on.
These examples should give you a great idea of what to aim for as you develop your portfolio. As you take on more digital illustration jobs, you can change and update your portfolio with your new work. Therefore, your portfolio is always getting better, as your own illustration work improves with practice.
Digital Illustrator Job Hunt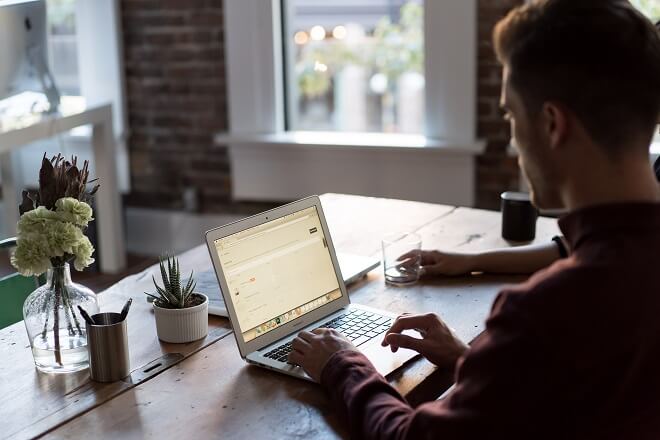 With your portfolio at the ready, what does the job hunt look like for a digital illustrator? Here is a brief rundown of what you can expect while looking to land one of these jobs in a highly competitive creative industry.
Job Description
The typical digital illustration job description is as follows: To create original artwork for digital publications and print, and to work closely with your client to ensure your vision meets their particular needs and standards. Most employers will use a variation of this description when looking for illustrators to join their team.
Depending on how big the client is and the nature of the project, you may have to work with editors and marketers, as digital illustration, when it's not used just to inspire the look of a scene in a game or movie, is almost always used as advertising material.
Your creativity and skill are your best selling point, but even so, when working with clients, expect that you may have to make changes to the illustrations to more closely fit what they want.
Salary
The average salary of a digital illustrator is around $68,000 a year. With that said, it entirely depends on your experience, your clients, and the jobs. If you're doing work as a freelance digital illustrator, you may start out making a few hundred dollars per illustration.
However, for illustrators whose work contributes to huge multi-million dollar films and video games, illustrators could make thousands of dollars per illustration.
In many ways, the quality, as well as output of your work will determine how successful you will be as a digital illustrator. Digital illustration is used in so many products that there's certainly plenty of work out there, much of which will inspire you.
But it's a very competitive job market, so to rake in the big bucks, your work will have to be at a level of quality the employers you want can't ignore. Don't be disheartened if you don't get there right away. The more jobs you successfully do, the more practice you will have, and the better a portfolio you will be making.
Digital Illustrators also have the freedom to craft their own niche. If you like drawing characters in action scenes, there are jobs for that. If you prefer science fiction landscapes, there are jobs for that too. But how do you find them?
Finding Digital Illustration Jobs
There are a few different avenues you can take to find one of these jobs. One common approach is to try your hand at job sites such as LinkedIn, Indeed, and Upwork. The jobs on offer range in size, pay scale, and scope.
Many of these are freelance, one-time illustration jobs, but there's plenty of long-term work on offer too. Don't underestimate the job sites, as it's not uncommon for huge companies like Ubisoft to make job postings looking for digital illustrators.
Another critical factor to landing your dream illustration job is networking. Employers won't usually track down your portfolio out of nowhere, most of the time you have to go looking for them. Attending events such as Freelance Fandango and Society of Illustrators is a great way to meet other artists, professionals, and employers, as well as to attend workshops and lectures.
There are plenty of illustration events to be found every year, and they aren't just for show. Potential clients are always scouring these events for new talent, and professionals in the industry want to share what they know with a new generation of artists.
What's more, there are plenty of illustration competitions that can serve to show your work to a wide audience. You can often win prizes in these competitions, but even if you don't win, the point is to get your portfolio out there for others to see. An illustration entry in a competition is a wonderful way to spark interest in the rest of your work.
Internships
Internships are a great way to get some experience working in a digital illustration career, and luckily there are plenty out there. Many of them can be found on the job sites mentioned earlier.
For example, Riot Games, makers of League of Legends, are currently offering internships. Disney also has an internship program, though it's a very competitive process to get in. Still, internships can open doors to your future illustration career, so apply where you can! If you get accepted, it can be a huge opportunity.
Are You Ready To Share Your Story?
Digital illustrators are not just artists, but storytellers. Their work provides inspiration and excitement to our day-to-day lives. It may be a difficult job, but these artists have a lot of leeways to build up their own style of work and use it to add a little flavor to the media landscape we see every day.
With practice, imagination, and a little luck, you too can find success as a professional digital illustrator.