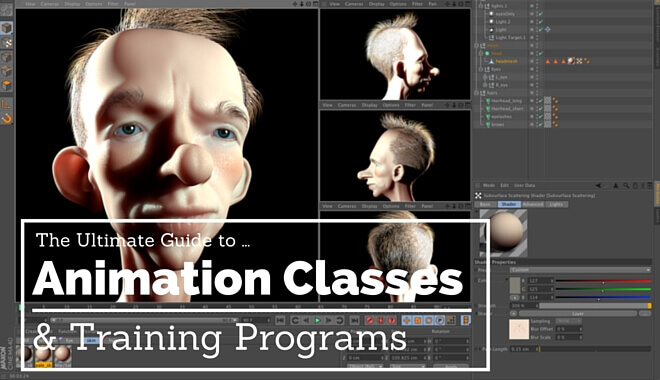 Professional animators and graphic artists are at the forefront of a thriving digital industry that continues to grow.
Despite outsourcing minor animation projects, the U.S. Bureau of Labor Statistics has predicted a 6% increase in the field of animation, graphics and media design over the next few years.
Too Many Options?
Careers in animation are as diverse and varied as the training programs available to those looking to learn.
Regardless of your background, age, or financial situation, there are many high quality animation classes available to choose from.
The Starting Point: Talent
---
Many (but not all) of today's top animators started out with some natural talent. Typically memorable illustration skills, superior storytelling abilities and a natural inclination towards the art.
Bob Godfrey, one of the most talented illustrators to ever grace the field of animation, has spoken often of his passion for bringing his drawings to life.
In one interview, part of what he believed animation to be was summed up, in part, when he said,
"…We want limitations; we want gravity. Basically, there is no gravity in animation. Animation is free, it can fly, and it can go anywhere. I don't think enough people realize this, they're too earth bound. It's not earth bound, it's fantasy.

You've got to have a very whimsical mind for animation, I think; you've got to be able to take off and be not of this world."
It is this passion and drive that brings many to the industry.
Animation Growing Exponentially
---
In order to gain access to the world of animation, you have to pursue an education that trains you in 2D and 3D animation.
The ability to create realistic animation has grown exponentially with new techniques and computer software continually improving.
Depending on where you live, you can explore the many course offerings and degree tracks to place you where you would like to be in the field.
Your Animation Training Options
---
Generally speaking, there are four broad categories of animation training.
Certification(s) 
Associate Degree(s)
Bachelor Degree(s)
Master Degree(s)
Also worth noting:
The US doesn't currently offer a Doctoral Degree in Animation.
Self study via books and online courses are also gaining in popularity.
In addition to selecting the level of education you desire, choosing the right focus can be even more important.
Common focus areas of animation:
Animated advertising
Movies and television
Video game testing and development
Education
While these categories are not exclusive, they paint the choices with a broad brush for those wishing to narrow down their field of interest.
It May Seem Overwhelming at First
Just as there are many different jobs in the animation industry, there are a myriad of choices available for your training.
There are schools devoted entirely to the pursuit of graphic design and animation as well as universities adding in comprehensive degree tracks in media arts, animation and graphic design.
How to Choose the Right Degree Level
---
Training ranges from the certificate level, where you can train in the core basics and give you enough of an introduction to the field to procure an entry level position all the way to a Master of Fine Arts, which can find you teaching in a university or working on the next major animated film.
Level 1: The Animation Certification
There are several schools throughout the country that offer programs that provide a certificate after your training is complete.
These courses provide core basics in the animation field and usually require approximately 17-18 credits.
You can expect to take classes such as:
2D animation
3D modeling
Graphic design
And additional similar courses
These certificates can offer you a glimpse into the complex world of digital media, animation and graphic design.
You can take a certificate course to enhance an already existing degree, or to freshen your skills that might be outdated with emerging and improving technologies.
Level 2: The Associate Degree
Progressing to the next level of education available in the animation field, we arrive at the Associate Degree.
This typically two-year program adds in not just core classes, but other prerequisite courses at the college level that result in a more well-rounded education.
The animation classes that you will take during the pursuit of this degree can vary.
Some schools offer multiple tracks for degree completion that may result in Applied Science or Arts degrees in:
Multimedia
Graphic design
Game design
Animation specialties
Graduates from these types of programs can expect to obtain entry-level employment in animation studios, advertising companies, design firms and other creative artist positions.
As this article points out, just one generation ago, all animation was done by hand. Delving into the history of animation, you discover the incredible talents of those who worked animation magic with pen and paper.
Level 3: The Bachelor Degree
The exponential growth of the industry had lead to an equal rise educational requirements for those at the top of the field.
For this reason, there are a ton of Bachelor Degrees available for serious aspiring animators.
When enrolling in a Bachelor of Animation Class or training program you can expect to learn the core skills of animation, the software and tools used by pros, as well as a speciality to focus on for your career.
The Most Popular Bachelor Degree Programs Include: 
Level 4: The Master Degree
At the pinnacle of animation education sits the Master's Degree in Fine Arts with a concentration in Animation, Design and Production.
These degrees are not as widely offered as the certificates, associate and bachelor degrees.
Individuals who take their education to the top with a M.F.A are usually seeking higher level positions in the industry such as:
Producer
Creator
Project Director
Studio Executive
This advanced degree also adds in unique components (not usually found in less intense degrees) such as:
Management
Production Skills
Logistics
Finance
In order to gain admittance to these selective programs, one must already possess a valid Bachelor's Degree in an Animation field and compete for a place in the program.
Upon completion, one can expect to gain a more lucrative position in the field. Some individuals obtain this degree in order to teach at these prestigious universities and transfer their knowledge to up and coming animators.
To set the record straight, there aren't any Doctoral degrees in animation currently available in the U.S.
If your passion extends to the height of wanting to pursue your Doctorate degree in Animation, you will have to look outside The US to find a suitable program.
Most people who pursue a degree in digital arts at this level are often seeking to teach at universities or work at the highest level of the industry. This degree is extremely rare and takes years to complete.
Animation Classes Online
---
There are many reasons students choose to enroll in animation classes online.
Sometimes, it is simply a financial decision.
Online classes are usually less expensive than traditional colleges. As the student is not on campus and provides their own classroom so to speak.
Also, online classes offer the student the flexibility of taking the course at their own pace, working around work, family and other obligations.
This can be a very attractive draw to choosing an online path.
Some people wish to obtain their degree in the fastest possible time and at the lowest cost.
You can definitely achieve a quality education at the online level. However, there can be some downsides.
Downsides to Animation Classes Online?
One of the main drawbacks to taking your animation course online is that you can sometimes miss out of the collaborative effort that taking a course in person offers.
Many animation and graphic design courses rely on the concept of teamwork to put together class projects and learn ways that a complete graphic design team sits down and designs the product from conception to completion.
While there are certainly ways to have discussion online through video conferences, chatrooms and forums, this can be a drawback for some.
Some colleges and universities can alleviate this deficit by offering meet-ups and workshops that tie-in to the course and other collaborative opportunities.
Also, one must consider another important issue. If you are interested in specializing in a particular niche in the animation field, attending a brick and mortar school will allow you access to more hardware and software used directly in the industry.
Unless you are fortunate enough to already own or have access to these advanced tools, your best option might be to take at least a few of your animation classes on a campus that can provide you with this interactive environment.
Online classes are sometimes the only option if you do not live anywhere near an institution that provides the classes and moving to live near or on campus isn't an option.
The Top Animation Classes Online
How to Pay for School
---
The cost of your program can vary greatly depending on several factors.
Community colleges tend to have great in-state rates for students and can be a very affordable option to start out with.
Private tech school programs often cost more, however, they are also accredited schools which are eligible for funds like student loans, scholarships and grants.
Don't forget to consider the state and economic status around the institution. If you are looking to attend a brick and mortar school, you will need to not only seek out information about the cost of the education program, but the cost of living for housing, food and other necessities needs to be factored in.
If you are taking all of your courses online, you will need to add in additional costs as well.
Will you need to take workshops or participate in internships in order to complete your training or degree? While you may save on program costs, factoring in these additional fees are important too.
Speak to an Advisor
Once you have narrowed down your animation school and program selections, taking the time to speak to an advisor is a crucial step in the process.
They can answer vital questions that will help you avoid signing up for courses you don't need, or guiding you towards a course track that will point you in the direction of the career you seek.
Advisors can also help you figure out the often complicated world of financial aid and get you on the right track.
Animation Scholarships
In addition to traditional funding, there are scholarships that are specifically geared for students pursuing education in the animation field.
Many of them require that you submit portfolios and other forms of completed work.
You will find that the requirements vary for each scholarship, as is normally the case with most targeted awards.
Some scholarships are available for women pursuing degrees in animation, while another may target an individual coming from a disadvantaged background.
A different scholarship may require that you maintain a certain G.P.A. in order to apply. If you take the time to do some research on these programs, you may be able to fund a portion of your tuition costs.
List of scholarship opportunities via CalArts.
The Future of Animation
---
Pursuing your dream of an education in the animation field is a great way to turn your artistic background, talents and ideas into a lifetime career.
With so many colleges, tech schools, universities and options to help you realize your dream, you can begin your search to find the perfect program track and degree that will propel you forward towards your pursuits in the industry.
No one knows what the future of animation looks like. But one thing is certain; animation is here to stay and the demand for content is growing.
Gaming, film, television and advertising agencies will continue to seek out new talent and story ideas that spark new content and new ideas that push the boundaries of technical limits.
You already know that's what you want to do, so why not start your search for the perfect animation classes today?





Article Last Updated: July 27, 2016