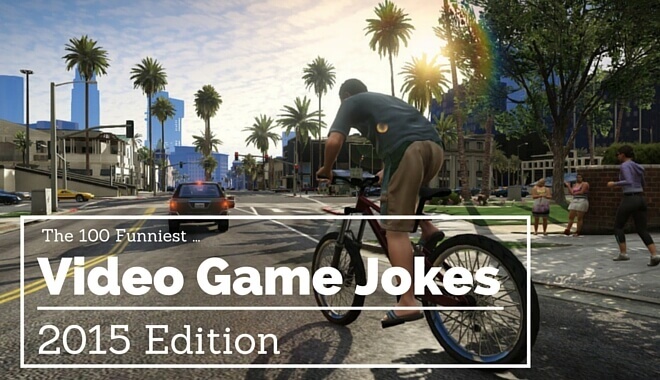 We've collected literally hundreds of video game jokes from all over the internet trying to find the best. (Including our favorite video game memes)
After much discussion, we think we've highlighted the 100 best (text) jokes about video games.
At least so far.
Instead of constantly updating this page when new jokes come out, each year we'll post a new list like this with our favorites.
Enjoy!
100 of The Funniest Video Game Jokes
1. My favorite game is Grand Theft Auto, you can do virtually anything.
I was able to experience raping a child, robbing a charity shop and killing a Jew with my steel crowbar.
Then I went home to play Grand Theft Auto.
---
2. My girlfriend told me to stop playing Pokemon as it was childish.
I started thrashing about and roared "You don't have enough badges to control me!"
---
3. You know when you walk into a room and forget why you went in there?
That's God playing Sims, he just canceled your action.
---
4. My friend and I were talking about Call of Duty earlier and he said, "I bet Hitler would have been a better player than you ever will."
Confused, I asked him why.
He replied, "Well, because he's got a kill-to-death ratio of 6 million to 1."
---
5. Hitler was one of the most evil men in history.
He ordered the mass genocide of 6 million Jews and was pretty much responsible for kicking off World War II.
Although, on the plus side, if he hadn't have done all that there would be no Call of Duty: World at War
---
6. Dating a single mother:
It's like continuing from somebody else's saved game.
---
7. A religious person came up to me the other day and asked me if I believed in evolution or creationism.
I replied "I believe in evolution. How else would Charmander become Charizard?"
---
8. Describe your sex life using pokemon moves
Mine;
Leer
Flash
Harden…but it failed
Withdraw
Sleep
---
9. My smartass 14-year-old son challenged me to a game of Tekken the other day, in front of his mates.
I finished him off with a killer combo in under 30 seconds, before proudly exclaiming, "Who's your Daddy?"
He replied, "Mum says it was probably the milkman."
The little bastard.
---
10. Q: WHERE DOES SPIRIT BREAKER GO PEE???
A: THE BARATHRUM
---
11. Lina is red CM is blue Don't take my farm Cyka fuck you.
---
12. Q: Whats the river's name in dota?
A: I'm pretty sure it's The River Fag. I've been told I few times 'don't cross the river fag'
---
13. Yo momma is so fat, when Rubick tried to steal a spell from her all he got was diabetes.
---
14. Spirit breaker would make a horrible salesman.
Because he'd charge too much.
---
15. Your mom is so dumb if silencer kills her, he loses int.
For Fun:
---
16. Yo mama so fat, the chat wheel can't decide on which lane she is.
---
17. Yo mama so fat, that when Bounty Hunter tracks her, he has a vision all over the map.
---
18. Yo mama so fat, if Naix infests her it takes him ten minutes to get back out.
---
19. What's Tidehunter's least favorite game?
Command and Kunkka
---
20. So. Ursa walks into Roshan's den and says, "Roshan, I haven't seen you in Aegis!"
---
21. Q: What do you call a Pokemon who can't move very fast?
A: A Slow-poke
---
22. What is the national sport of Minecraft?
Boxing.
---
23. Yo mama so fat, SHE is a board on the MARIO PARTY GAMES!
---
24. Wives are like computer games.
When you get bored you cheat…
---
25. Yo mamma so fat even Kirby can't eat her
---
26. If there will ever be a Minecraft movie, then it would be a blockbuster.
---
27.
Q: What did Wario name his art supply store?
A: World of Wario Crafts
---
28. Yo mama so fat that she counts as a 5 kill streak on Call Of Duty.
---
29. My girlfriend just left me because of my overwhelming obsession with Assassin's Creed…
I tried to explain I can't Altair the past!
---
30. Q: What do you get if you tape a stick of dynamite to a hedgehog?
A: SONIC BOOM!
---
31. What is a pigman's favorite cereal?
Golden nuggets.
---
32. Yo mama so fat she broke the 64 block limit on Minecraft.
---
33. Who is the cleanliest Street Fighter?
Dudley, because he always takes out the gutter trash.
---
34. I was having a hard time decorating all the parts in my mycelium build; there was just too mooshroom.
---
35. Q: What do you call the Nintendo Wii in France?
A: A Nintendo Yes
---
36. How many silvers does it take to change a lightbulb?
None, they can't even climb the ladder.
---
37. Yo mama so fat when she plays Mortal Kombat, Sub Zero cant freeze her.
---
38.
Yo mama is so fat that when she sat on my 3DS she turned it into a 2DS.
---
39. How good is Minecraft?
Top-Notch!
---
40. Q: What did Shang Tsung say to the Aztec witch doctor?
A: Your soul is Mayan.
---
41. How do you get Pikachu on a bus?
You poke-em-on!
---
42. I'm a massive computer game geek, and people keep telling me to get a life.
Then I thought to myself, I don't need to get a life, I'm a gamer so I have lots of lives.
---
43. After I took the wool off a sheep, it told me, "Sheariously?"
---
44. A sad horse walks into a bar. The villager that is the bartender says: "Now, why the long face?"
---
45. Yo mamas so fat if you slice her in fruit ninja, you automatically win the game!
---
46. Why can't the Ender Dragon read a book?
Because he always starts at the End.
---
47.
Q: What does a gorilla wear to the beach?
A: Donkey thong.
---
48. What did the Minecraft turkey say?
cobble, cobble, cobble!
---
49. Did you hear about the murder of the snow golem?
It became a cold case.
---
50. How do you make people change direction in Minecraft?
You Block their path.
---
51. Yo mama so ugly when she plays Mortal Kombat, Scorpion said "Stay over there"
---
52. Q: Why did Dante not cut onions?
A: Because he was afraid of the Devils May Cry.
---
53. You're so bad at RPGs when somebody asks you where you're stuck, you say, "The file select screen."
---
54. What did the teacher say to the curious jungle cat?
You sure do Ocelot of questions.
---
55. What is a creeper's favorite subject?
HisssSSSSStory
---
56. Your momma is so stupid, she won't play Candy Crush cause she has diabetes.
---
57. What did the chicken say to the cow?
Pleased to meat you.
---
58. Q: Where did Mario buy his lunch?
A: Mario Mart.
---
59. What kind of parties do Minecraft players have?
"Block" parties.
---
60. What is sonic the hedgehog's favourite season?
Spring.
---
61. Q: How did Sagat cure Ryu from the measles?
A: By giving him a Tiger Shot.
---
62. Q: Why did Mario cross the road?
A: Because he couldn't find the warp zone!
---
63. What's Ryo Hazuki's favorite drink?
Hi-C.
---
64. Q: What is Mario's favourite play?
A: Mamma Mia!
---
65. Q: What was Bomberman arrested for?
A: Indecent Explosure.
---
66. Q: What's Samus' favorite food?
A: Metroid Prime Rib.
---
67. What did Steve say to his girlfriend?
I dig you.
---
68. Why does Donkey Kong always brush his teeth?
To prevent tooth DK.
---
69. Where did Noble Six go for a vacation?
Halo beach.
---
70. Q: What is a Tomb Raider's favorite after school snack?
A: Croft's macaroni and cheese
---
71. You're so bad at Castlevania Adventure that you say you need a slow-motion controller to play it well.
---
71. Q: Which video game system is always late for school?
A: Atardi
---
72. What's a Street Fighter's favorite car?
A '91 Honda.
---
73. A zombie walks into work, and his boss tells him, "Did you get enough sleep last night? You look a bit dead this morning…"
---
74. Where did Captain Price buy his car?
Modern car fair.
---
75. You're so bad at Tetris, on two-player mode, a guy can beat you with a controller that has broken left and right buttons
---
76. Why does Donkey Kong eat bananas?
Because he finds them a-peeling!
---
77. Why did the enderman cross the road?
He didn't, he Teleported.
---
78. How does Steve chop down trees with his fists?
How wood I know?
---
79. Q: Why did Ash get arrested?
A: Because while you were in the bathroom he took a Pikachu.
---
80. While driving yesterday, I saw a banana skin in the road and instinctively swerved to avoid it.
Thanks, Mario Kart.
---
81. So I was playing Skyrim, the dragon roared at me, I ignored it and carried on.
The beast, again, roared in a violent temper. Pissed off, I threw my controller down.
"Okay, I'll go and look for a fucking job", I told her.
---
82. How does Steve get his exercise?
He runs around the block.
---
83. My 8-year-old son got the Sims for Christmas, he was showing me around his house where he showed me his wife sleeping in her bed, in the kitchen. I'm so proud of that boy.
---
84. Yo mama so ugly, when she played Minecraft all the enderman teleported away to another server.
---
85. Q: What did Link use to win the basketball game?
A: His hookshot.
---
86. What do you get when you cross the Madden NFL video game and a sick hamburger?
A: Madden Cow Disease
---
87. What's Cobblestone's favorite music?
Rock music.
---
88.
Q: What's a Street Fighter's favorite dessert?
A: Abel Pie.
---
89. Have you heard of the creeper that went to a party?
He had a BLAST!
---
90. Why don't blazes ever make businesses?
They keep firing people!
---
91. How did Steve feel when he spent hours mining only to find nothing but coal?
Shafted.
---
92. What did the chicken say to the ocean?
Nothing, it just waved.
---
93. What did the chicken say to the sheep?
Pleased to meet ewe.
---
94. What do you get if you push a music box down a mineshaft?
A flat minor.
---
95. Q: How did Snake save on car insurance?
A: By switching to Gekko!
---
96. Why did the Creeper cross the road?
To get to the other sssssssssSSSSSSSSSsside.
---
97. So, Pokemon Black came out this weekend.
Gotta Catch Jamal.
---
98. Yo mama so ugly she broke fix-it-Felix Jr.'s hammer.
---
99. I've just been playing The Sims.
My wife keeps getting into arguments because I don't have much of a social life. My fish just died. My son keeps coming up to me telling me he's hungry. So I built a little square room on the side of our house and put him and my wife in it, locked the door and went back upstairs to play The Sims.
---
100. What's an enderman's favorite band?
Imagine Dragons!
---
Citations:
http://www.sickipedia.org
http://www.facebook.com
http://www.twitter.com
http://www.reddit.com
http://www.quickfunnyjokes.com
http://www.notactualgamefootage.com
http://www.jokes4us.com
http://www.dumb.com
*It was practically impossible to find the true original sources of all these jokes. So we've just listed the domains were we found them. If anyone can prove the original source of any of the jokes listed, let us know, we would be happy to cite them. 
---