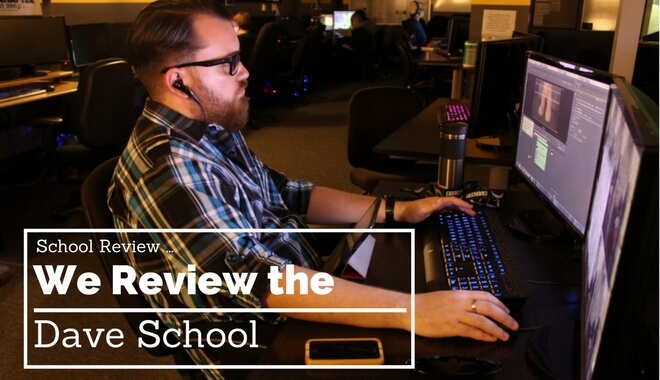 The DAVE in DAVE school stands for Digital Animation & Visual Effects…School.
The school itself is located inside the gated backlot of Universal Studios Florida. The DAVE School's 18,000 square foot facility includes learning and interactive labs, a dedicated Virtual and Real-Time production stage, a Vicon motion capture system, 3D printing, and VR/AR labs, and secure student access 7 days a week.
The school started with its Visual Effects Program, developing a game production program more recently. Then, in 2016, the DAVE school added two online bachelor programs. These online courses are in Motion Graphics and Production Programming.
The 2019 numbers posted for the DAVE school show a 73.91% retention and employment rates.
As we mentioned, the DAVE school offers college-level programs in Game Production, Graphics, Visual Effects, and Motion Graphics with an upcoming program in Virtual Production beginning in July 2021.
Some of these programs are exclusively campus-based, others are exclusively based online (pay attention to which is which—this will impact total cost, flexibility, etc.).
NUC University (NUC), which includes The Dave Schools is accredited by the Middle States Commission on Higher Education.
Let's take a look at their programs so you know what you're getting yourself into with the DAVE school.
Game Production Diploma Program
---
The Game Production program at the DAVE school is a campus-based, 12-month diploma program. It consists of four different twelve-week course blocks. You'll "work together with fellow students and instructors to create a game from scratch."
The program is broken down as follows: 9 months fully online with the last 3 months being a studio residency at our campus located on the backlot of Universal Studios Florida.
You'll learn how to use software like:
Unreal Engine
Adobe Premiere
Adobe Substance
Autodesk Maya
Pixologic ZBrush
Redshift 3D
Marmoset
Quixel
Engage VR
Now, a big selling point for this program is that everything happens in "a production environment that mirrors major game studios." You're learning in a way that reflects how studios would operate in the real world.
You'll learn how to design, model, rig, and animate original characters and levels. Then you'll learn how to bring them into a game engine.
By the end of the program, according to the DAVE school website, you'll have a "demo reel sure to impress any AAA or Indie game studios looking for artists."
The Courses
---
Over the course of the program, you'll take these courses:
Fundamentals of Asset Creation & 3D Design
3D Animation: The Art of Motion
Game Asset Creation & Immersive Techniques
Real-Time Technologies & Studio Production
Each course "block" stacks on the knowledge from the previous block. You'll get a thorough understanding of 3D modeling and sculpting techniques before moving on to rigging, animation, and motion capture.
Then you'll move to actual game creation, with a look at the whole process. Finally, you'll pick a specialty and "elevate those skills to the level required by top employers."
For Portfolio Production, you'll be paired with "an experienced production manager" who "will assign you tasks that contribute to the eventual completion of the project and will supervise your work." By meeting the standards of your production manager, "you will be producing industry quality work (that will be presented on your demo reel) every single day."
Few programs offer that kind of constant over-the-shoulder help.
This attention is helpful in that you know you'll be making high-caliber work, and any mistakes can be quickly corrected. On the other hand, if your vision doesn't line up with your production manager's, you could have a miserable go of it. Important learning opportunities await in both scenarios!
Instructors for the Game Production Diploma Program
---
The faculty and staff at the DAVE School seem pretty solid.
Jeff Cavitt: Environmental Artist for Forza Horizon 2
Jon Gourley: 3D modeler for The Flash
Roger Borelli: Lead modeler for Green Lantern the Animated Series
Alexander Llanos: CG Artist on Conan the Barbarian
Dean Rasmussen: Digital Artist on Snow White and the Huntsman
Dan Greenfield: Senior artist on Solar Flux
Angel Gonzales: Creative Lead on Walking Dead Survival Instinct
The instructors all have industry credits, which is a great sign. If the DAVE school's big selling point is the "industry-mimicking experience," then instruction and guidance from industry veterans are a must.
What's the Cost?
---
The cost for this program (and most programs at the DAVE school) is $35,000 USD. More on this in a bit!
For now, let's look at other programs at the DAVE school so you know what your options are.
Visual Effects Production Diploma Program
---
The Visual Effects Production program takes place on campus. It's a 12-month diploma program.
In it, you will "grow your VFX skillset for a variety of CG industry jobs." This program "gives students a broad range of skills which allows them to pursue jobs in the computer graphics industry." This includes everything from game art, to military simulation, to feature film, to architectural visualization.
The course will also teach you the following software:
Unreal Engine
Pixologic ZBrush
Autodesk Maya
Mudbox
Adobe Photoshop
Adobe Premiere
Nuke
Redshift 3D
Quixel
Engage VR
The Courses in the Program
---
As with Game Production, you'll start off with the Digital Modeling and Sculpting course, and the Fundamentals of Computer animation course.
From there, you'll go on to study Movie Magic—the art of visual effects, and Stereoscopic 3D Production.
You'll learn:
Character, Prop, and Environment Modeling
3D Animation
Visual Effects
Lighting and Texturing
History of Film FX
Digital Compositing
Green Screen Keying
Rotoscoping
2D/3D Tracking
Demo Reel and Portfolio Creation
The courses in the program are:
Fundamentals of Asset Creation & 3D Design
3D Animation: The Art of Motion
Compositing & VFX: Principles of Integration
Real-time Technologies & Studio Production
This program, like many of the DAVE school programs, is a highly collaborative one.
It also costs $35,000 USD.
Visual Effects Production Bachelor's Degree Program
---
The Visual Effects Production Bachelor's Degree program looks a lot like the Visual Effects Production Diploma Program with some extra courses and a bachelor's degree attached.
It looks like that…because that's exactly what it is.
You need to complete the 12-month diploma program on campus. You also need to complete an additional 36 credits—12 courses in general education, 8 courses in electives.
The base price is $35,000. For every general education course, it costs an additional $399. For elective courses, it's $1,070 per course.
Motion Graphics Bachelor's Degree Program
---
The Motion Graphics Bachelor's Degree is its own program (unlike the visual effects production BA program).
It's a 36-month program that can be completed completely online.
You'll develop proficiencies in:
Adobe After Effects
Adobe Illustrator
Adobe Indesign
Adobe XD
Adobe Photoshop
Adobe Premiere
Autodesk Maya
Storyboard Pro
Engage VR
The Motion Graphics Program teaches you how to "utilize video, animation, and graphic design to convey information to a wide range of audiences." You'll be studying concepts like:
The Business of Motion Graphics Advertising
Typography and Design
Motion Graphics Production I
Digital Illustration
Advanced Color Theory and Design
Advanced Typography and Design
Motion Graphics Production I & II
Dynamics and Visual Effects for Motion Graphics
Motion Graphics Business Start-ups
The Motion Graphics Course Curriculum consists of:
Design Theory and Process
The Business of Motion Graphics Advertising
Digital Media Design and Production
Typography and Design
Color Theory and Design
Digital Photography
Motion Graphics Production I
Introduction to 3D Digital Modeling
Introduction to 3D Animation for Motion Graphics
Digital Illustration
Advanced Color Theory and Design
Advanced Typography and Design
Motion Graphics Production II
Motion Graphics Production III
User Experience Design
Dynamics and Visual Effects for Motion Graphics
Fundamentals of Business Management
Motion Graphics Business Start-ups
Final Projects and Demo Reel
Career Development
General Education Courses (36 Credit Hours Required)
Elective Courses (24 Credit Hours Required)
It could be because this program is so new, but the total cost is only $35,000. There are no additional fees added for the electives and general education classes.
The lower price tag and the flexibility from the online nature of the program might make this option a bit more appealing for some of you.
Still, it's a very new program.
It's too young for retention and placement percentages, and there isn't a lot of feedback available from students of the program (it's unclear how many students there have been since the program's inception).
Production Programming Bachelor's Degree Program
---
The Production Programming Degree Program is the other recent addition to the DAVE School's offerings.
It's a 30-month, fully online bachelor's degree program.
For this program, you're choosing between seven different concentration tracks, where you'll learn "how to write code for games, movies, and other productions."
You'll learn:
Software design
C++ programming
C# programming
Production pipelines
Computer graphics
Game engines
Database management
Unreal
Unity
Visual Studio
And more, depending on your track.
You can choose from the following tracks:
Game Design
Game Programming
Graphics Programming
Mixed Reality
Mobile App Development
Productivity
Simulation
A Quick Breakdown of the Tracks
---
Game Design will teach you "how to conceptualize games, craft gameplay mechanics, develop stories, visualize a look, support a team with documentation, test, and evaluate product outcomes."
Game Programming will teach you "how to build tools to assist game developers, create software that automates development tasks, simulate real-world systems…using languages such as C++ and C# and game engines like Unreal 4 and Unity."
Graphics Programming will teach you how to create cutting-edge visual effects. You'll have access to VR and AR systems to start experimenting in different realities. You'll also learn about popular multimedia libraries and procedural modeling.
Mixed Reality will focus on virtual reality and augmented reality programming and applications.
Mobile App Development is pretty straight forward—you're building mobile apps.
Productivity focuses on programming languages like C#, C++, Python, Java, and MEL to build tools or apps used by gaming, film, and other industries.
Simulation teaches you how to recreate "processes and systems" and build "discrete events and continuous simulations."
The Alumni Factor
---
Alumni from the DAVE school have worked on projects like Avengers: Age of Ultron, Game of Thrones, Uncharted 4: a Thief's End, Rogue One: A Star Wars Story, and more.
Some alumni have certainly had successes.
With an average placement rate of 68% and a graduating class size of around 150, that means about 97 students are finding jobs after graduating (This could be a reflection of the industry and not the school—the figure could also be much worse).
Awards & Nominations
---
Is the DAVE School Worth it?
---
Ultimately, the choice is yours. People have found success here. But recently, 45% of students have not found the success they're looking for.
It's further proof that the right school doesn't automatically mean success. It's what you put into it.
If you like the studio simulation environment, the programs, and the faculty, it's worth giving the DAVE school a call to find out more.
Deciding what to spend and how to proceed is no easy task. Keep taking the time to do your research. Read everything you can about the programs you're interested in.
Weigh your options. Call and ask questions. Reach out to alumni. Look up what they're doing now. See if you like projects that the faculty have worked on during their time in the industry. Look for projects that current students are working on.
The faculty does boast award-winners, and recent alumni have worked on big-name titles. But it's all going to come down to the time you put in, and the skills and relationships you develop.