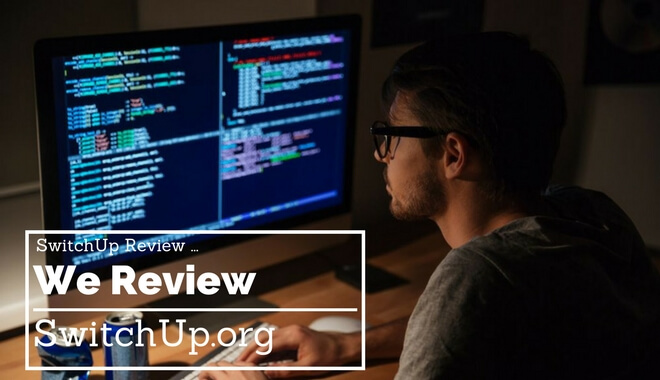 In a world of ever-increasing online products, courses, programs, bootcamps, and degrees—finding the right option for your needs can be a real pain in the buns.
Which programs teach X? Have people actually benefited from this online course? Which bootcamps line up with my career change goals?
Some programs are transparent, others are not. What's a learner to do?
Luckily for all the question askers out there, there's an online platform designed to help you answer your questions and find the right program.
Enter: Switchup.
What is Switchup?
---
Switchup is a platform that has compiled pages and pages of schools offering coding and design programs, bootcamps, and training.
They have a matching program designed "to help you get started. [Their] matching partners are highly rated, and they average over 4 stars and dozens of reviews. You receive free information via email and advice DIRECT from a partner school." (their emphasis)
The match service is straight forward—and free, which seems especially noteworthy these days (curse you, swindly internet hucksters! They're everywhere…).
The match form asks:
What you want to learn
Program type (offline, online, or both)
Your availability (full-time, part-time, or both)
Your experience (absolutely beginner, getting comfortable, strong)
And then some logistical stuff: Name, email, location, and zip code. After you enter your info, Switchup will send some matches to your inbox within the hour (they say it'll take an hour or less—my test matches arrived in 2 minutes).
Let's talk about my match results!
The Match Program Results
---
(By the way) Here's what I picked when filling out my info:
Full-stack web development
Both online and offline
Both part-time and full-time
Absolute beginner experience level(As you can see, I was both flexible and ambitious)
In an email, Switchup said "based on your profile, unfortunately, we did not find a perfect match in our database and not all your criteria could be fulfilled. However, we have a list of recommendations below that will help you get your feet wet in tech without too much effort or dime."
As a result, Switchup sent back three "imperfect" options for me:
1. Treehouse: "We've partnered with Treehouse to offer 2-weeks free trial for you. They have almost a dozen reviews on SwitchUp and 5-star ratings. Sign up here before the end of the month!"
A two-week free trial? Not bad—plenty of time to decide if it's worth my time and money.
2. Coding for Entrepreneurs: "This is one of the best reviewed intro-level tutorials on software and startups on Udemy. No matter if you want to pursure [sic] a career as a software dev, a designer, or a data scientist – it's worth learning basic Python and coding skills!"
This is a helpful recommendation—the biggest barrier for a beginner is learning those entry-level, foundational skills. Without the basics, I'd be starting well behind the rest of my class for more comprehensive courses. The class won't be worth the time and money if you can't keep up because you don't have "the skillz."
Plus, the Switchup matching program doesn't ask me what I want to do—this program recommendation covers that too.
3. Pluralsight: " We have locked in a 10 Day Free Trial With PluralSight so you can get your career change started! They are one of the largest online course providers with professional teachers and strong ratings."
Another free trial!
There's plenty of opportunities here to explore some subscription-based services that come highly recommended (for free, no less!).
Even though they couldn't find a great match with one of their programs, they still provided me with a great starting point for my own learning journey. And if those don't pan out, the email told me to "check out our forum and ask a question directly to our bootcamp community. One of our school partners will respond within 24-48 hours!"
Bootcamp community forum, you say? Perhaps this needs a closer look…
The Switchup Community Forum
---
As long as you have an account (free and easy to set up) you can log in to the Switchup Community and "Ask questions. Share experiences. Get answers directly from schools." (their emphasis)
Spend a little time there and you'll see a number of questions—but it looks like only some have answers, others do not.
One of the questions with answers has a theme many of us can relate to at some point in our adult working lives: "Not sure how to decide which tech path to take…I was wondering if there are any resources out there (a quiz, something, anything??) to help one decide which area is best for them."
Two answers turned up that same day (according to the dates on the site). One from a representative at Turing School: "Turing School offers a Try Coding evening or weekend workshop to check out coding and see if it's something you enjoy. You can learn more and register at trycoding.turing.io."
That's certainly a helpful start if the workshop is online or the school is close by.
The second answer is from user Kris Bredemeier—it's unclear the relation Kris has to Switchup…There's an official Switchup account that answered a few questions so, best guess, Kris is a user of the platform. He offers some decent advice on deciding what you want to do before jumping into a bootcamp or similar program.
So far, the community forum seems moderately helpful. It's cool that schools will reply to your questions as long as they have what you're looking for. And a helpful user community can be a great way to stay informed, excited, and accountable.
An answer from Kris Bredemeier turned up again a few questions later…In it, he recommends the Holberton school to a user looking for advice on Bootcamp prep courses: "I was a also a complete beginner when I joined Holberton, and since Holberton is a two-year school, and not a bootcamp, it allowed me to have time to nail down the foundamentals[sic] of CS."
Kris…could Holberton hold the answer for an absolute beginner like me? Is Holberton the perfect match—the dark horse that somehow slipped through the SwitchUp Matching algorithm?
I had to find out.
What Game Design Programs Does Switchup Offer?
---
Ok. So…In reality, I found the Holberton school way before I found Kris Bredemeier's forum comments. I'm just not one to squander a good mystery when it presents itself (even if that means going full-blown Reality TV on you guys).
Switchup has a basic search bar that lets you search for subjects you want to learn. In the interest of being especially helpful to you and your needs, dear reader, I searched "Game Design."
It turned up 11 results. Which…isn't many, considering how many pages of schools and programs they have. But we don't need quantity! We need quality.
Each program has a quick view list of skills taught:
One program taught Web Design (UX/UI), coding, digital marketing, sales, and more. Good for an entrepreneurial game designer, perhaps?
Another program taught Full Stack, Javascript, HTML/CSS, etc.
And a third program taught Video Game Design, Python/Django, C#, Unity, etc. I picked this one first!
DaVinci Coders—Game Design Program Listed on Switchup
---
The program belonged to a school called DaVinci Coders. It was one of the only programs that explicitly mentioned game design from the search results page and also had reviews. (of the 11 total results for the game design search, five of those programs hadn't received any reviews at the time of this article).
A quick note: Candor is the best—I love that Switchup posts (and encourages) reviews from a program's alumni. Some course platforms, like Udemy, offer reviews from participants. Other sites do not. Reviews are vital these days, especially when every person on earth is making an info product or putting a course together (curse you twice, internet hucksters!).
Here's a potent review snippet from Matt L, a participant in the DaVinci Coders course: "This was the hardest course I have ever dared to complete, and I would do it again…This course delivered what was promised." You gotta' love Matt's Candor.
After being satisfied with the reviews from the DaVinci Coders school, we had to go back to our "game design" results screen and click on the first result.
Drum roll please…..
Holberton School, baby!
Holberton School—Full-Stack Program Listed on Switchup
---
The Holberton School concept actually sounds pretty neat, and it's even better knowing that successful alumni strongly approved of their time there (here's to you, Bredemeier).
The Holberton school describes itself (on its Switchup website) as "the first school in the world to be fully community-driven. What that means is:
No formal teachers, but industry specialists
The curriculum is ALWAYS evolving, based on feedbacks [sic] from our mentors
We have real-life specialists in every field supporting the curriculum and our students (including Artificial Intelligence, Deep Learning, IoT, Security, Mobile…)
Holberton School has today more than 150 mentors, software engineers working at Uber, Google, Apple, CTO of IBM and founder of Docker, Yahoo!, Alta Vista, etc…"
Pretty stacked roster.
The Rundown on Switchup
---
So the programs and bootcamps that Switchup has pulled together in their database check out. Well—most of them check out. But you can find the ones that work for you with help from Switchup, the forum, and the reviews.
Switchup is free to use—the advice on their blog, the community forum, their match-up service—all free.
The site is easy to use. The search features are helpful. You have program pricing, reviews, and content covered all in one handy platform. This makes it way easier to compare relevant programs and decide which is the best fit for you.
If you're not sure what to do next in your career, but know you want to switch into game design or a related field, Switchup is definitely worth an hour or two (or more) of your time.