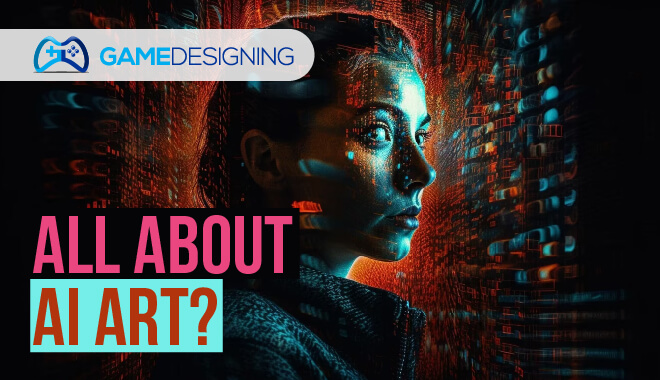 Artificial intelligence (AI) has been making its presence felt in a wide range of industries, including art and design.
AI art — meaning art created with AI — is now a popular art form that offers many benefits and applications.
But what is AI art? In this article, we answer this question and share examples to help you understand it better.
We also discuss its uses, advantages, and drawbacks as well as share a list of tools and resources you can use to create breathtaking AI art.
What Is AI Art?
Also called generative art or computation art, AI art refers to the creation or enhancement of artwork using AI tools.
It includes various art forms, including visual art and audio compositions such as photography, video, and music. However, in this post, we will focus on 2D and 3D illustrative art.
AI art is different from digital art, which refers to artwork created with digital software. Digital art requires the artist or designer to use their artistic skills and techniques by employing tools like Adobe Illustrator.
Meanwhile, AI art often involves typing in text prompts. Generative AI algorithms respond by creating a finished artwork without needing further inputs.
AI art disrupts the paradigm of human creativity and handheld tools like paintbrushes and musical instruments that have driven art's history since the discovery of the earliest pictures on cave walls.
Instead, computer technology and machine learning algorithms apply different artistic techniques to alter or enhance existing human-created artwork or to create new artwork altogether.
AI art moves away from the status quo where humans are the exclusive creators of art. Its advent puts forth questions about creativity's origin while carrying legal and ethical concerns.
But it is also an opportunity to push the boundaries of creativity and art.
Examples of AI Art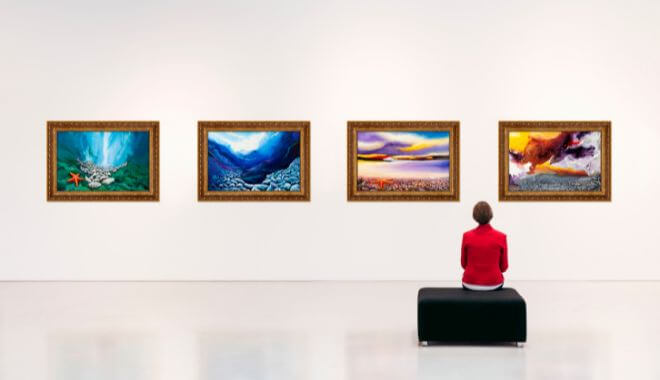 AI art comes in many forms, one of which is generative art. This form of AI-generated imagery uses algorithms to produce unpredictable and unique visual outputs. The results can be random or rely on certain rules or parameters set by the artist.
Another example of AI art includes style transfer, which uses AI algorithms to apply one image's style to another. It helps an artist produce novel combinations of images and styles.
Below, we share examples of new AI-generated art types that are becoming increasingly popular with the emergence of AI art:
AI Face
AI-generated face art refers to computer-generated images of human faces. AI portraits help protect privacy by creating digital representations of people's faces. Using an AI face generator also allows artists to create game characters, realistic portraits, and more.
AI Landscape
AI-generated landscapes refer to computer-generated imagery of natural or urban landscapes. Creating imaginary yet realistic landscapes using text prompts is a popular AI art form. Even novices can use online background generators to create stunning digital scenery.
Random Art Image
Random art images are a type of AI art that uses algorithms to generate striking visual representations of random objects. A random AI image generator amalgamates different objects to produce random image content from a textual description.
Photo to AI Art
This popular style of AI art uses algorithms to automatically recognize the content in an uploaded image. The algorithms then translate the image content and apply it to an AI-generated image.
This technique allows an AI program to create new artistic expressions and ideas while retaining the original image's elements. Photo to AI art is usually used to create cartoons and avatars.
Who Can Use AI Art?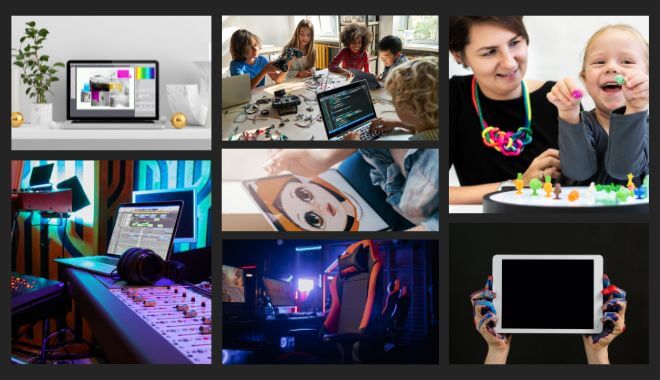 Here is a list of industries and jobs that can use AI art:
Industries That Use AI Art
Here are the top industries that leverage AI art in their operations:
Gaming
The gaming industry is increasingly using AI software and tools to create images and videos featuring photorealistic yet imaginary characters, settings, and themes. It improves the visuals and the performance of game simulations and provides more realistic, interactive, and immersive gaming experiences.
AI art makes games look and feel more natural and life-like while recreating new digital gaming environments and worlds with real-time lighting. Game developers and artists can also use AI upscaling to enhance a game's graphics and image quality.
Art
Many new artists are experimenting with AI art. A few of them use AI to create new patterns, styles, and color palettes for their artwork. Meanwhile, others use AI to analyze data and derive new artistic ideas for their creations.
Graphic Design
Many graphic designers use software programs like Adobe Illustrator CC and Adobe XD to leverage AI and incorporate it into their creative workflows.
They use AI to automate mundane tasks like resizing and aligning objects as well as getting suggestions and inspiration for design elements and layouts. It ultimately improves the efficiency of the design process and allows designers to focus on more complicated tasks.
Although humans still produce the finished design, AI art speeds up design stages like brainstorming, idea generation, conceptualization, prototyping, and client pitches.
Video Editing
AI art also finds uses in video editing and post-production workflows. Adobe Premiere Pro and other software programs use AI for automatic color correction and footage stabilization. It makes the video editing process faster and more efficient.
Video editors can also use AI to go through the footage and suggest edits like cutting between various shots.
Music Composition
AI music composition software programs like Jukedeck and Amper Music can analyze songs and suggest harmonies, melodies, and rhythms. They allow musicians to compose music more quickly and efficiently.
Jobs That Can Use AI Art
While we covered most creative industries that use AI art in their workflows, other jobs also use AI art. They include the following:
Therapists
Therapists can use AI art in art therapy. They can help patients leverage occupational AI art for personal enjoyment and relaxation.
Educators
Educators and teachers can use AI art tools to teach a digitally connected generation of artists and help them learn better.
Pros and Cons of AI Art
Let's take a look at the pros and cons of AI art below:
Benefits of AI art
Automates and streamlines repetitive tasks in the creative industry
Allows creators to focus on more nuanced and complex tasks
Makes the creative process quicker and more efficient
Increases productivity for creators
Offers cost savings for businesses
Opens up fresh opportunities and possibilities for creators
Provides new perspectives on art and creativity
Allows creators to produce artwork or art collections in less time
Creates complex and challenging visual and audio art quickly and easily
Drawbacks of AI art
It may lead to a loss of jobs and creativity according to some.
It can lack the personal touch and emotional depth of human-generated content.
It is still in its early stages, so capabilities and quality may differ.
It is not yet widely accepted as a legitimate art form.
How Does AI Art Help Artists and Designers?
---
Contemporary artists and designers use AI in many ways to create art.
Though artists previously had limited artistic tools like brushes, paints, chisels, cameras, and musical instruments, AI's introduction has significantly expanded them.
The impact of AI on modern art allows artists and designers to experiment with AI art in myriad ways such as:
Augmenting Existing Artwork
AI programs and tools allow artists and designers to enhance existing artwork. For example, AI can help reinvent and reimagine existing creations in different artistic styles.
Creating Fully AI-Generated Art
AI programs enable artists and designers to generate new pieces of visual art, music, and videos using text-to-image tools and other features.
Deriving Inspiration for New Creations
AI art can provide artists and designers with visual inputs and starting points as they attempt to create new pieces of art.
Collaborating With AI Art To Generate New Pieces
Nowadays, many multidisciplinary artists combine hand-drawn creations with AI-generated images as novel forms of artistic collaboration. They are exploring various possibilities for human-machine collaborations.
These projects may involve an AI program copying an artist's gestures in real-time to produce unique artwork. This helps AI tools learn from and use an artist's existing creations to generate new pieces.
AI can also go beyond human-machine interactions to enhance human-to-human collaborative projects. It allows two or more artists and designers to put their images and other art forms together in interesting ways.
AI also allows artists to list their creations for prospective buyers from which they can create and mint non-fungible tokens (NFTs). This type of layered collaboration produces an array of compelling outcomes.
Receiving Feedback and Learning
Artists and designers can work with AI and get a computer to review their work. Seeing a particular artwork in an AI program's output allows users to identify signature colors and gestures and enhance them as necessary.
AI offers unbiased feedback and tells you what it sees. This perspective that goes beyond human perceptions offers artists and designers a new, surrealist, and uncanny way of looking at their creations.
Increasing Volume of Production Thereby Increasing Scales
AI also helps artists and designers produce huge creations quickly. Creative professionals can use AI to create larger collections of their artwork by modeling their original work.
Media artists can turn large quantities of information into nodes of color, filling rooms and covering buildings with their artwork. AI also allows inanimate objects like buildings to express their history and existence through art.
Leveraging Market Potential
Another way AI helps artists and designers in their work is by opening doors to emerging art markets. It expands the avenues where people can buy and appreciate artwork, helping artists and designers showcase and sell their creations on different platforms.
Traditional auction houses and NFT marketplaces are now experiencing growing interest in abstract artworks created by AI models.
AI also helps produce new art collections with blockchain technology. It can generate a model from an artist's creation and go on to create hundreds and thousands of new artworks. The artist can then curate these vast collections to make an NFT collection.
Enabling Democratization
An impressive benefit of AI art is it helps more people create unique artwork and supports a new generation of would-be artists. AI tools are more accessible than ever before, which has unlocked a larger pool of artists.
Today, even people who cannot draw or physically paint due to a disability, illness, or other reasons can generate beautiful art.
How Do You Start Creating AI Art?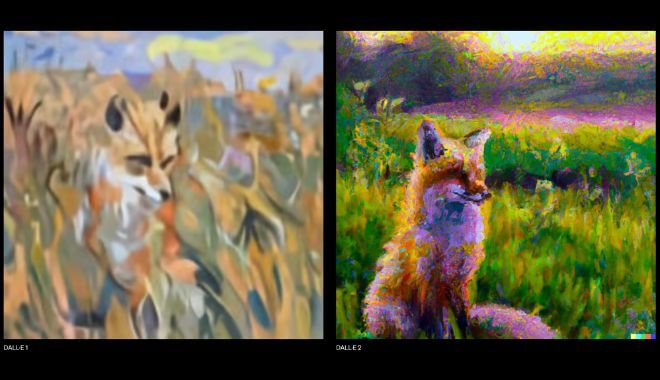 How is AI art created? AI art generators do not require any art skills. You can simply type a text prompt, and the generator will create a finished artwork according to the prompt.
That said, the more you improve your knowledge about art, the more you will understand which text prompts will give you the best outcomes.
It will help refine the AI-generated artwork by adding more details to your prompt. For example, you can add the specific art style, colors, lighting, and textures you wish to see in the artwork.
Tools and Resources
AI art is produced in different ways. Artists and designers can create images in the style of others or produce beautiful graphics with text descriptions. They can also learn creative coding and generate AI art using only code.
If you need an AI art generator to get started, we share the 12 best AI art-generating tools and software for creating stunning virtual imagery:
Launched by Google in 2015, DeepDream is a popular AI art tool that was initially created for scientists and engineers. This computer vision platform helped them visualize and understand patterns learned by neural networks, which are a type of machine learning algorithm.
The deliberately over-processed images created by DeepDream had a surreal psychedelic appearance. It later resulted in the algorithm becoming a new abstract art form.
The art generator enables users to add photos and videos to it and transforms them using an AI algorithmic filter. The program uses convolutional neural networks to augment existing photo patterns with dream-like effects. These networks are forward-fed artificial neural networks in which a neuron connectivity pattern responds to overlaying areas in a visual field.
WOMBO Dream is another easy-to-use art generator that helps you create AI art with your mobile and browser app. It produces generative art from text descriptions in different pre-determined art styles.
WOMBO Dream uses two machine learning tools to combine an image-generating neural network and an algorithm that interprets descriptive texts. These algorithms learn from every iteration, so each request creates a different result.
NVIDIA Research's new AI model, GauGAN2, derives its name from post-Impressionist painter Paul Gauguin. This AI program generates photorealistic images from basic design elements that artists can create with simple graphic tools such as paint buckets and paintbrushes. They can also combine sketches with short texts to create unique and eye-catching scenery.
This widely used AI software helps users visualize concepts and create simulated photos using any kind of creative input.
Midjourney AI Digital Art System uses a mix of generative art techniques and machine learning to produce content with user inputs. Artists can also use an initial uploaded image as their starting point. This software creates more painterly and artistic art, which sets it apart from the rest.
To create art using this AI program, artists must first submit their instructions through a Discord channel. Through it, various art style specifications like color palette, stroke patterns, medium, and brush size can be configured.
Deep Artificial Language Learning Engine (DALL-E — stylized as DALL·E) creates unique and photorealistic art using descriptive texts and interprets natural language, including written descriptions and commands.
This AI tool is similar to Midjourney, but DALL·E operates on a website and allows users to add or remove elements to edit existing images while Midjourney does not.
Craiyon is a text-to-image art generator that uses the technology behind DALL·E, OpenAI's larger model. Unlike DALL·E, Craiyon is open-access and free for users. You only need to type in a clear text description and it will create nine variations of its results.
This program became especially popular in 2022 when users began producing different kinds of cool art and memes.
Playform is an AI tool made with AICAN technology. Developed by Dr. Ahmed Elgammal, AICAN is a patented AI artist that uses a complex algorithm to autonomously create new artwork using knowledge about art history.
Playform allows you to train your generative adversarial network (GAN) models using your artwork and designs. This no-code collaborative platform allows you to feed it over 30 images. Its algorithm will identify color, depth of field, composition, and other details to produce unique images.
You can also list your work on the Art Mine, a section of Playform's platform that allows users to list their models for buyers to mint NFTs from. It enables artists to leverage the power of layered collaboration for diverse and interesting outcomes.
Playform improves AI's accessibility for creative professionals and invests in them via its studio program, which offers artist development services, exhibition opportunities, and community support.
This open-source coding library was developed to make machine learning accessible and easy to use for a large audience, including artists, designers, creative coders, and other creative professionals. It offers access to pre-trained machine learning models and algorithms with limited lines of Javascript code.
Curated by independent contemporary art curator Marnie Benney, AIArtists.org is the world's biggest artist community devoted to exploring AI. It curates historically significant AI art, offers AI art tools, and serves as an international clearinghouse for the effects of AI on art and culture.
You can explore artists, AI art history, ethical issues in AI art, and other topics on the platform. You can also access 41 tools for creating visual art, music, and more.
Formerly called Ganbreeder, Artbreeder is an innovative and collaborative AI art website that relies on machine learning algorithms. It uses the StyleGAN and BigGAN models while allowing artists and designers to create and alter images of paintings, faces, landscapes, and other categories.
You can use it to craft unique art using shapes, images, and other design elements. It also includes tools like a Collage Maker and Splicer, which allow creative professionals to combine various elements to produce AI art.
The Splicer tool also helps users edit their images' genetic information for unlimited possibilities.
You can also use sliders to combine images and add features from one image to another. Artbreeder boasts a vibrant community where users can share their work and follow other artists for creative inspiration.
The best part is that the platform is free to use, and every user can access unlimited images. You can also sign up for one of three memberships that offer extra features like custom genes and faster renderings.
Overall, Artbreeder is a fantastic AI art tool that helps users explore creative possibilities and collaborate with fellow creative professionals.
Machine Learning for Art (ml4a) offers an authoritative collection of free educational resources covering machine learning in art. This leading platform for artists provides a handy book on code and AI's underlying mechanisms. It also offers other tools that apply machine-learning techniques to art and creativity.
You can also access over 40 collaborator-maintained instructional guides, video lectures, interactive demos, figures, and more.
Fotor AI Art Generator is another popular AI art platform that anyone can easily use, including those without any experience in AI art. This tool offers a simple and intuitive user interface that allows you to generate gorgeous AI art in mere minutes.
You can produce AI art from text or images while accessing various styles and customization options to suit different artistic needs.
Final Thoughts
AI's use in art and creativity is still at a nascent stage, so AI art's capabilities and quality can vary with different programs and applications. Also, AI art is still not widely recognized as a legitimate art form, and public perception of it must improve for it to enjoy greater acceptance.
Nonetheless, AI art has the power to stir up creative industries by opening up new possibilities, increasing efficiency, and streamlining processes.
This makes it a promising tool for art and creativity in the long term.