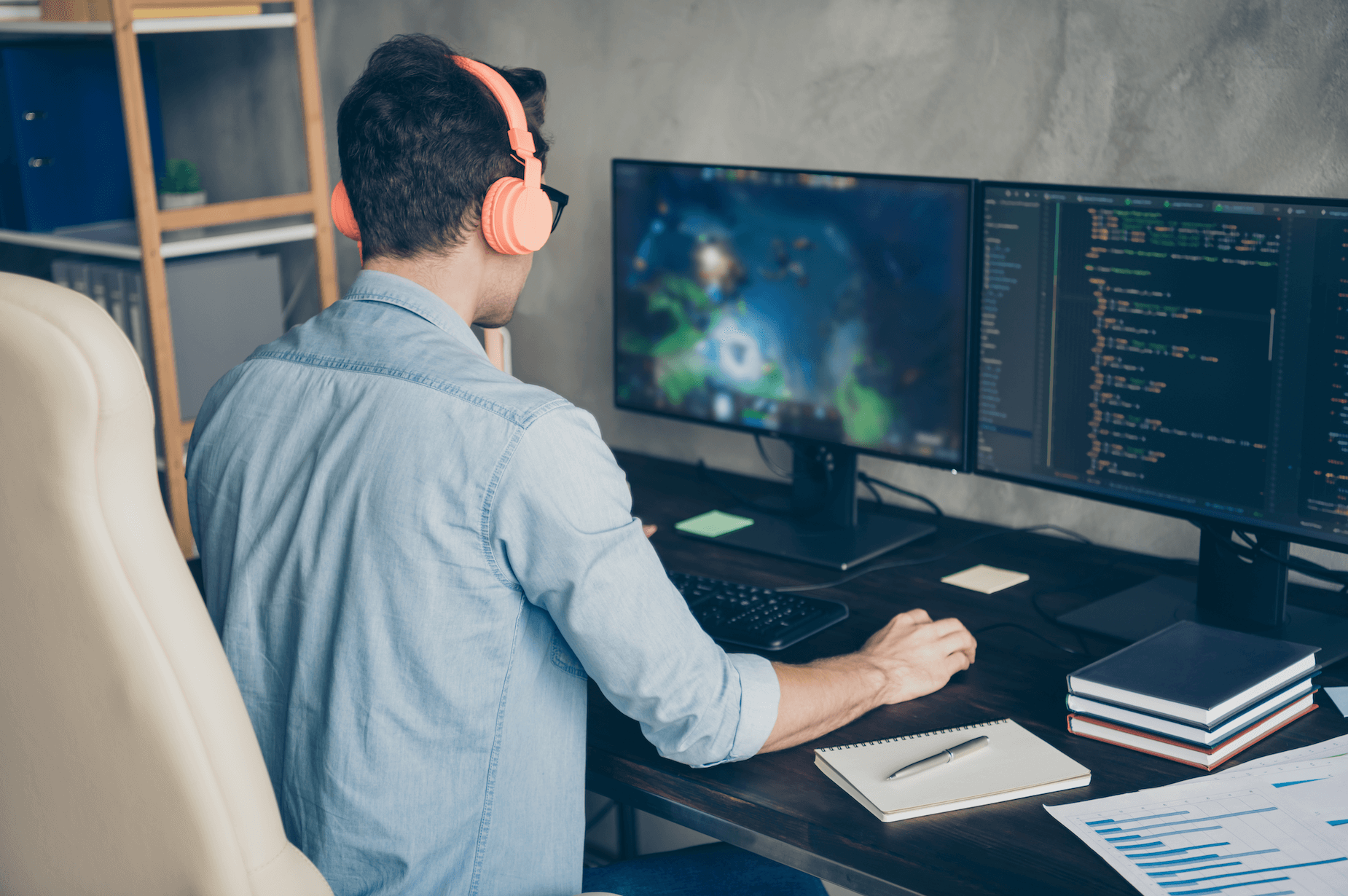 Many people all over the world have had amazing careers in video game development. To some, its sounds like a dream job – it has to be competitive right? The gaming industry has been thriving for well over a generation and it doesn't look like it will be slowing down anytime soon. The allure of crafting interactive digital experiences has drawn many into the world of game development. But just how tough is the journey to becoming a video game developer? Continue reading to uncover some insights into the competition.
What is Game Development?
Imagine building a house. Just like a blueprint guides construction, game development involves detailed planning, design, and execution. There are many stages of game development. Each stage involves highly specialized processes requiring meticulous attention to detail. Developers turn an idea into a fully playable, immersive game.
Degrees to Pursue
To land a job as an entry-level game designer, you may want to consider pursuing a specialized degree from a university or community college. You might be surprised to hear that this is not always necessary. Employers these days are beginning to view online learning credentials as a legitimate sign of professionalism, just as they would a degree. There are many online academies or courses for every subject, you just have to find the right one. If you do chose the traditional degree route, you may want to consider the following:
– Game Design
– Computer Science
– Graphic Design
– Animation
Essential Skills of a Game Developer
None of the following skills are mandatory – but they are close to essential.
– Coding:
This is one skill all prospective developers should know. Coding is the language of any kind of digital development. Learn one language well and use that understanding to branch off into the others.
– Graphic Design:
Being a developer is more than just knowing how to work a computer – it also demands creativity and good taste. Develop your artistic side. You may find you have a knack for open-world ideas or character design. Talent hides in all corners of the development world.
– Storytelling:
Every game tells a tale, don't you want to tell it well? Building an understanding of what makes a story will-told will help you in this career.
– Problem-Solving:
Anything that involves meticulous computer work will require a degree of problem-solving. Identifying the correlations between the issue at hand and the process involved in creating that issue will make you a shining star in the office.
Software Tools of the Trade
Game development involves the use of some pretty amazing software. Successful developers will have an understanding of the following tools:
– Game engines like Unity or Unreal Engine
– Graphics software such as Photoshop or Blender.
– Scripting tools for coding and debugging.
Building a Portfolio
Because this is a job niche with a bit of competition, it is important to give yourself an edge whenever possible. If there is anything you can put together to showcase your skills as a potentially desirable candidate, that will be a big help. These can include:
– Personal projects
– Game jams participation (contests where participants try to make games from scratch)
– Collaborations
Entering the Job Market
Stepping into the professional world can be daunting. Look for any networking opportunities, These can be either in-person or online. Meeting the right person can be the key to landing your dream position. Another option is internships. If you are working towards a degree, this could be the option for you. Look for job fairs and search through Linked-In or Indeed for job postings. You could find a smaller studio interested in hiring a full-time entry-level employee.
Challenges in Game Development
Every rose has its thorn. Game development is no exception. Tight deadlines and evolving technology can present hurdles. Don't let that dissuade you though, every profession comes with challenges.
Rewards of the Profession
Can you imagine how satisfying it would be to see a project you poured your heart and soul into come to life? What if it is a massive hit? Sometimes a game comes out that impacts the globe (Pacman, Mrs. Packman) Plus, there's potential for good remuneration, industry growth, and continuous learning.
The Future of Game Development
Virtual Reality, Augmented Reality, cloud gaming – the horizon is expansive and thrilling. As a video game developer, the evolving technological landscape promises endless opportunities. It is on you, though to be open to the evolution of your skills as a developer. Take on new challenges as they come and look forward to the satisfaction of overcoming them.
Conclusion
The path to becoming a video game developer is paved with challenges, but the rewards? Absolutely worth it. Finding the educational path that fits you best, building the skills of the trade, and staying open to new learning opportunities will make the quest to build a game development career much more attainable.