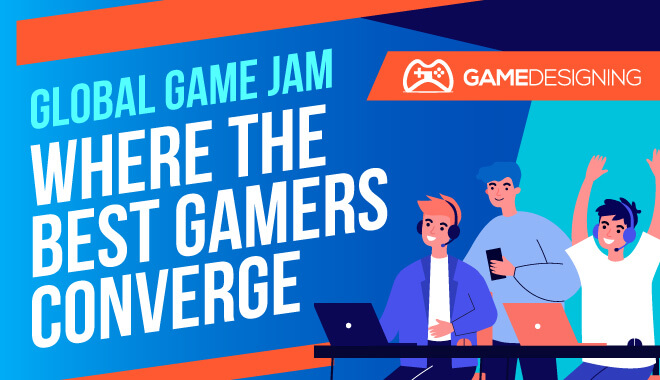 What Is the Global Game Jam?
---
The Global Game Jam, aside from sounding like a killer party, is an event in which people congregate together and attempt to make their games from scratch. Think of it as the nuggets, most focused brainstorming session you have ever seen.
Naturally, it comes from the mashing up of the word 'game' and 'jam,' like a musical jam session. For those who don't know, jam sessions can last a pretty long time. So it only makes sense that this game jam sessions last for a few days and include tons of talented individuals.
Global Game Jam themes can vary. Participants find out what the theme is shortly before the Game Jam begins. For example, the Global Game Jam will state that the Game Jams theme will be 'fire.' Therefore, hundreds of creators will attempt to create fantastic games from scratch, dealing with the element of fire.
While the focus usually tends to be on video games, game jam sometimes focuses on other forms, like card games.
Games formulated during a Global Game Jam have seen success, so the influence and usefulness of a Global Game Jam can't be understated.
Let's lay out some Global Game Jam Basics.
Who's It For?
---
Global Game Jams are great for creators. Their motto – innovation, experimentation, collaboration, succinctly represents what they aim to accomplish.
Basically, anyone is allowed to join a Global Game Jam. You don't need to be Hideo Kojima or a concept artist at Microsoft.
If you're a creative-minded person who has always wanted to give a shot at creating game concepts, then joining a Global Game Jam could be a great opportunity.
Keep in mind, the Global Game Jam isn't a competition. It emphasizes the power of creative collaboration and cooperation to make fantastic games and art.
The Global Game Jam Schedule
---
Global Game Jams last for 48 hours straight, usually beginning at 5 in the evening on the first day and wrapping up at the same time two days later. The continuous-time limit is supposed to simulate how it is to develop a game more realistically.
This means deadlines, and a deadline 48 hours in the future is quite a crunch period.
What Can You Bring to Game Jam?
---
All you need to bring to a Global Game Jam is a great idea. Okay, so you'll need a bit more, but doesn't that sound great?
In reality, you'll need to stock up on some protein snacks. Although Global Game Jams are required to have food to meet the requirements for operation, it doesn't mean that stuff like pizza will help you through your deadline.
Other than that, think of what you'd typically bring with you to school or on a trip. Here are some suggestions:
Laptop
Water
Hygiene stuff
Notebooks
Pens
Pencils
Art supplies, etc.
And of course, you need to bring a great work ethic.
How Do You Participate in Game Jam?
---
To become a 'jammer' at the annual Global Game Jam, you need to register on the official site. You need first to look up which location suits you. Thankfully, there are hundreds of global sites for you to choose from, so the chances are good you have a Global Game Jam site within proximity. For the United States alone, there are 174 locations.
Don't worry, you don't have to have teams formed before you join. The Global Game Jam ideally has groups forming up on the first day of attendance.
A benefit of working with strangers is that you need to do a successful game pitch. This would be great practice if you wanted to pitch your game idea to game studios. Working with talented strangers from all walks of life is a valuable experience that will only benefit you in the long run, as you'll see in our success story list.
Global Game Jam Through the Years
---

Game Jam 2009: January 30 – February 1, 2009

The first Global Game Jam session resulted in over 300 games being created out of many great ideas. It was held in 53 global locations and had 1650 people attending.

Game Jam 2010

The Global Game Jam upped the ante by opening more locations and allowing for more participants. Naturally, more games were made (900), thanks in part to the 4,300 participants.

Game Jam 2011:January 28–30

Over 6,500 participants with 1,500 created games.

Game Jam 2012: January 27–29

This Global Game Jam broke over 10,000 participants for the first time in 47 different countries. This ended up with 2209 games.

Game Jam 2013: January 25-27

Over 3,200 games were created over the two days by 16,705 Game Jam participants.

Game Jam 2014: January 24–26

Another milestone for Game Jam: over 20,000 participants. 4,290 games were created.

Game Jam 2015: January 23–25

Nearly 30,000 participants convened at Global Game Jam and created 5,438 games.

Game Jam 2016: January 29-31
Game Jam 2017: January 20-22
Game Jam 2018: January 26-28

8,606 games were created from the minds of 42,811 people

Game Jam 2019: January 25-27

47,009 participants created 9,010 games

Game Jam 2020: January 31 – February 1

Nearly 50,000 participants banded together and created 9,601 games. This marked the Global Game Jam held in almost 1,000 different locations.
Game Jam Success Stories
---
Global Game Jam has been responsible for the creation of some great little games. Here's some you may be familiar with.
Goat Simulator
---
Coffee Stains Studios
April 1, 2014
Like many successful creative projects, Goat Simulator simply started as something the creators were messing around with. You control the titular goat and cause mischief and mayhem.
Gods Will Be Watching
---
Deconstructeam
July 24, 2014
This exciting point and click adventure game was published by the team that brought you Hotline Miami.
In it, you control a ragtag team while you control resource management and solve puzzles. With a tremendous pixelated art style and sci-fi story, players will put their minds to the test to make sure your team survives.
Super Hot
---
Superhot Team
25 February 2016
Fans of the matrix and other high-tech, fast-paced action will love Super Hot. It's an FPS tailor-made for virtual reality. In it, time only moves when you move.
Super Hot enjoyed an extremely successful Kickstarter campaign, as well as passing Steam's Greenlight phase in only a few days.
Conclusion
---
As you can see, the Global Game Jam and being plain old fun can create some fantastic and iconic video games. With the simulation of the entire game creation process and demanding crunch time, many game developers, artists, and writers can create unique ideas and addictive games. Will you sign up for the next Global Game Jam?