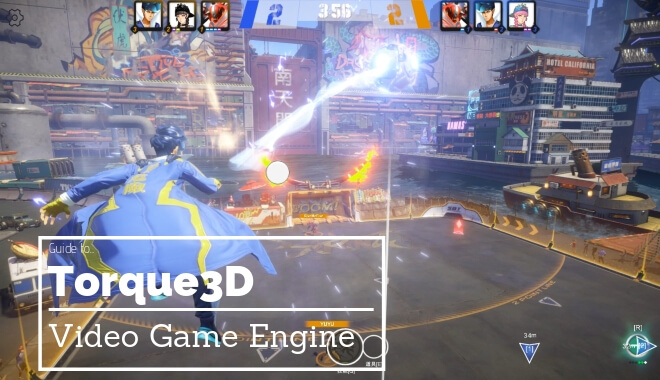 I remember days and long nights of religiously gaming—my friends sleeping over, each one of us sweaty-palmed and fried from all the adrenaline that was pumping through us. We loved to play FPS games, and we'd be glued to the TV all night trying to get revenge on one another through skill and, sometimes, I'll admit, trickery.
Since I was such a fan, that's what drew me to the Torque 3D game engine. This engine has proved itself to be a robust foundation for possible FPS games. If my friends and I had this engine during our FPS phase, we would have been working around the clock to make a cooler Counter-Strike or Halo, (I know, lofty goals).
It is so cool to be able to research an engine like Torque 3D. I am going to show you the gist of it, and whether you should use it for your creations.
Developed by GarageGames, Torque 3D, aka TGE, is a great engine for budding developers of games.
Torque has been available since 2009, with the first availability of the open-source version coming later in 2012. Its most current build, 3. 10, came in February 2017. It was on the scene long before its release to the public: it actually had its roots as being the engine that the beloved early 2000s game, Tribes 2, used.
Although I was too young to get into the Tribes franchise, I knew it was competitive, fast-paced, and unforgiving. With a history like that, it has to be a great choice in your decision to use for your own projects. Could you develop a new high-stakes, fast-paced multiplayer game that critics and players love alike?
Torque 3D is known for its flexibility and its consistent performance among engine users. It includes a wide array of in-engine tools to help you create, create, create. It also supports Windows and browser-based programs.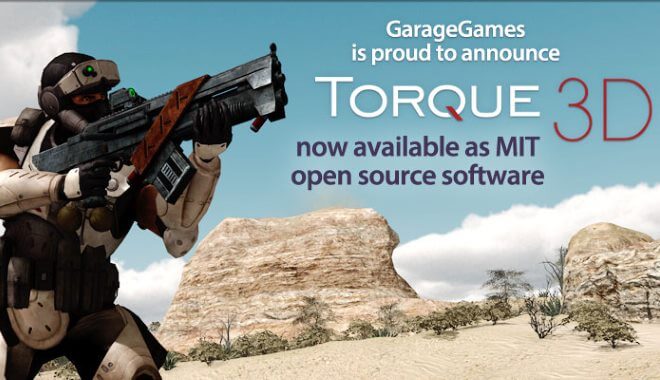 Like many other engines, it utilizes the MIT license which gives the user amazing creative freedom with only the need to include the MIT copyright with their project.
Pros and Cons
Pros:
Free. Yep, it is completely free to use and open source, (using the MIT license as I've mentioned). That means you have free reign of the source code to make whatever your heart desires within the parameters of the engine. Some engines can be quite costly—I saw one that had a potential monthly fee of $100. If you are a budding game developer, you are not trying to break the bank trying to get your product off of the ground. You want that sweet spot of cost-efficient and well-developed.
Cross-platform. This is a great feature that I love about more modern game engines. Everyone gets attention from Torque: Mac, Windows, and even Linux. This is an essential feature these days, as different game developers aren't all using the same platform. This opens up your creative potential, as you can now share your project with people on different operating systems.
Good Performance. Users state that the Torque engine runs very smoothly, even on older operating systems and computers. Got a PC from 2010? Chances are you could still run Torque easily. Now, I would hope that being the creative person you are, you would have a more current computer, but it is nice to know that your bases are covered regardless.
Ease of use. According to forum user Ozi on the GarageGames site, when talking about Unity and how difficult to use, Torque, on the other hand, was pretty easy to pick up. The interface was simple, there wasn't any "under the hood" type stuff that you have to figure out. The only issues (or I should say difficulties) I have been with the importing models from Blender. Other than that, it is a pretty darn good engine." I love that. If there's a thing I despise about intricate programs, it's the under the hood type stuff. I don't have time to learn complicated stuff! Give me games already!
Ozi then goes on to state he is a newbie when it comes to game design, so his experience is a great endorsement. Users then made salient points about how people are attracted to the sleek, professional engines when they first start out. If only they knew what an easy engine this was to pick up!
Cons:
Limited graphical quality. Now, this could be considered a personal preference. To some, Torque 3D might not be their cup of tea graphically. True, you won't be getting stunning environments like Fallout 4 or even Skyrim, but it can hold its own for what it is.
AI: I have seen some complaints about the AI with Torque. Of course, it being a free engine, you will probably not get the same innovative AI that you would see in many triple-A titles on the market, but it is still somewhat disappointing that along with the positive aspects of this engine, you can't really endorse solid AI.
Torque3D Tutorials
The Torque Website
---
I'm always a proponent of going to the source of the engine and learning from the developers themselves. They made it, so they are probably your best go-to source for any guidance you have. The website itself immediately guides you to their beginner tutorial, complete with a video walkthrough and basic information.
They help you through the steps of the installation, installing Torsion, (the script editor), and help you on your way to creating an FPS Deathmatch. How cool is that? Your first foray into Torque 3D and they are already throwing you into some of the coolest aspects of gaming—that you can eventually make yourself.
Maybe creating can make Tribes 2 look like small peanuts compared with your project.
They start you at the basics and quickly, but efficiently, move you through the many different aspects and stages of development. This is such a crucial step for the developers of these engines. With tutorials like these, it's no surprise we are seeing increasingly creative projects popping up on the landscape.
GarageGames
---
The original developer, GarageGames, has archived a TON of tutorial walkthroughs for you to peruse. What follows is an extensive, exhaustive step-by-step through nearly anything you could have a question about. The editor sections are stacked: world, terrain, decal road, shape, forest, river, etc., and each with its own subset of walkthroughs. You got your advanced lighting, decal editor, and too many to name to give you a good start. Other than the Torque website, this is definitely the best place to get knowledgeable about Torque 3D.
Also, I like to give the friendly suggestion of possibly donating to the creators, (if you are able), so they can keep bringing you better builds of the engine that they put all of their time and energy into, and also provide you with more detailed info you can use to better your experience.
Like any good tutorial, they outline the very basics, then move onto the more nuanced, more detailed aspects of the engine and what it can do for you in your creative process.
PRVD Entertainment
---

Personally, I like to get my tutorials via YouTube; it has helped me many times when I have been stuck with whatever I have been doing. Car radio not working? Check YouTube. Software glitching out? YouTube.
So, it only makes sense that I am drawn to a Torque 3D engine tutorial series brought to you by PRVD Entertainment, a channel dealing in software. There about section states:
"Welcome to our YouTube Channel, on this channel you will find videos of software tutorials for game creation and how to design 3d objects, other videos of jokes and entertainment for your family, friends and for you. You can also visit us at Facebook, Twitter…"
These guys know what they are talking about. One look at their homepage floods the viewers' senses with hundreds of software videos, and not only for Torque 3D. We are talking Unreal, Unity, and other game engines out there. With over 1.5 million views, they must be doing something right.
These guys take you video through video, outlining the basics: files, installation, objects, shaders, everything. You'll definitely get a great grip on Torque 3D after watching their short, yet informative series. I was immediately drawn to the videos by the awesome-looking stuff they created in the engine. A lone soldier runs across dark farmland, all while being explained by the narrator. It's a great channel, check it out.
The Wiki
---
Being so connected online has its benefits, and one of my favorites is Wikipedia and the countless other derivatives of it all over the internet. There are wikis for fandoms of shows, games, and movies. You better believe Torque 3D has its own wiki too.
Much like the official website and GarageGames, the wiki is a great database for all things Torque 3D. The 'getting started' page alone will make your head spin with how much valuable info is crammed into the web page. For visual learners like me, it has many steps by step pictures of the engine in use, where to click next, and what your coding should look like.
This is invaluable, as sometimes you need that extra demonstration to make you feel like you have the hang of the engine. It can definitely be intimidating starting with a whole new engine, but the wiki alone could put you at ease in minutes.
Torque 3D Forums
---
I always love to link to the forums, because the communities for these engines are always so helpful and positive. There truly are no dumb questions here, as amateurs and pros of the game engine rub shoulders with each other, asking questions, and sharing their visions for their games.
Not only is there a great community at the Torque 3D forums, but there's also a blog that is being constantly updated, giving you an inside look at the developing process of the next build of the engine.
Not only are there a multitude of forum categories, but there are even job postings for developers available. Users can troubleshoot their problems, throw around ideas to others, and generally get a better idea of how to enter the creative process in Torque 3D.
Verdict
---
So, this is a pretty easy decision to come to for me. Torque 3D engine is FREE. That means that you really have nothing to lose. I could recommend the engine based solely on that, but it also helps that it is easy to use, some users say it is more robust and seamless than Unity, and that the performance is a dream.
That being said, there are some AI hiccups, and the graphical quality may not be innovative. For me, I personally think that the graphics are serviceable, and if you care more about the fun you will get from a wild, adrenaline-filled FPS, this might not be a problem for you either.
If you can overlook these few issues that Torque 3D can possibly pose to you, I think that this could be a potentially life-changing piece of open source software that you could use.
Clearly, you can take your skills to the next level using these tutorials and communities, giving yourself great tools to get started, and the gaming community a great game to play in the future.
It's definitely worth a shot, go for it.