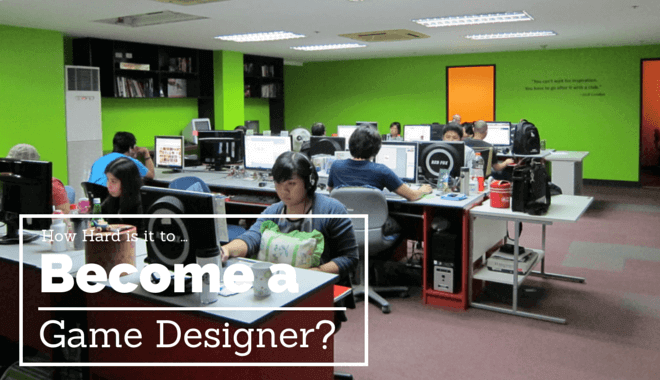 While game design might seem like an easy profession …
We all picture game designers sitting around on bean bags bouncing ideas off each other.
It's actually difficult to get into and even more difficult to remain at the top.
Designers come and go, which makes the job very transient; employers are quick to drop you if your ideas don't remain fresh.
That said, it is an incredibly rewarding career with a lot of perks.
But don't forget, I said it was difficult!
The Uphill Climb
---
It is very difficult to remain at the top of game design, even if you manage to secure a job.
This is because most game designers come into a company with one big idea, with no plan for their career after that big idea has run its course. Keep your ideas fresh and interesting, and you'll be sure to keep the eye of employers and co-workers.
To succeed in game design you really need a five year plan – an idea of what you'll be doing in the next five years.
This keeps you on track, making sure you don't lose sight of what you want to achieve.
For most game developers, they are their own worst enemy, quickly forgetting what they wanted to do in the industry in the first place. Otherwise, there is huge pressure from employers to perform, and competition from co-workers.
Competitive Nature
---
Game design is a competitive business.
There are literally thousands of other aspiring game developers, each vying for the attention of studios across the globe.
So how do you make sure you're the one to get the job?
A five year plan and interesting ideas will only get you so far – you have to also show that you can deliver. A roster of completed games will set you ahead of the competition, even if all those games were developed in your bedroom.
Keep a catalogue of ideas in your head at all times – whether they be ideas on how to fix existing games, or ideas for completely new ones, you'll never know who might ask about them (and then you'll be one step ahead of the competition).
Trends
---
With the advent of mobile gaming, there is a rush towards the casual market and an opening for developers who can come up with unique and addictive mechanics on the fly.
This suits some just fine, but others may struggle with this type of market.
In consoles and more traditional PC gaming, there is a move away from carbon-copies of existing franchises and into more new, or reinvented, IP.
In related markets, gamification is becoming huge, and will affect the way we interact with our lives very shortly.
There are openings for all kinds of designers everywhere, so know yourself and your niche and you'll find the perfect job for you.
A Career Timetable
---
Many people wonder how quickly they can go from being a junior designer deciding what colour the walls of the level should be to a lead designer on a project of their own creation. The short answer is 'years'.
Expect to spend at least three years as a junior developer, building up a collection of completed games with your name in the credits, before moving onto a senior game designer role. Senior game designers have more of a say in what goes into a project.
After five or ten years, you may be trusted enough by your company to take the lead on a project – whether that project is your idea or otherwise.
Lead designers earn the top bucks, but it takes a lot of work to get there.
Wrapping Up
---
Becoming a game designer is just as hard as getting into any other career, but with added competition and the need to be constantly fresh and relevant.
However, by applying yourself and keeping your long-term goals in mind, it can be a rewarding and fulfilling career as easy to progress through as anything.
Be prepared to put in the hard work, and you'll be rewarded with a wonderful career.