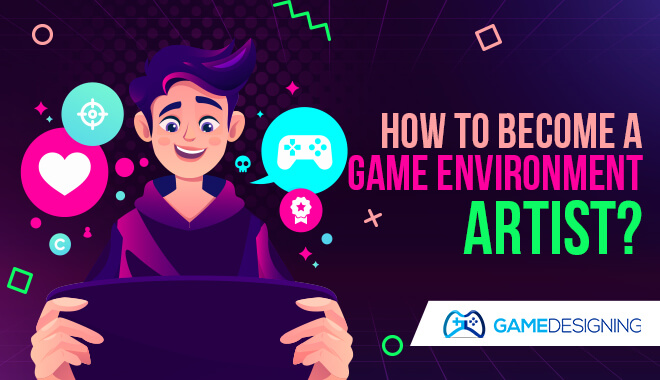 Have you ever been blown away by the scenery of a game? Who can forget their first trip to the towers and spires of Anor Londo in Dark Souls, or the frosty peaks of The Throat of The World in Skyrim? These stunning vistas stick with you, long after finishing the game. That is why the role of an environment artist is so important to game design.
An environment artist is tasked with creating most of the art and assets the players will see in a given setting. They can make gray test models into works of art, and turn some empty rooms into a detailed dungeon. But how does someone become an environment artist; and what actually goes into making these fantastic landscapes?
What Is An Environment Artist?
An environment artist is a part of a games design team responsible for creating most of the visuals a player will see or interact with. This could mean creating impressive fantasy setpieces.
Designing Objects
It could also mean designing everyday objects that give an environment life. Office chairs, trees, rocks, etc.
Such objects might seem like an afterthought, but someone has to create the art assets that go into making them. This can take some research. An artist may look into visual references for simple objects, or to find inspiration for complex ones.
Collision of Objects
Environment artists will also design the collision of these objects. Collision is the math that governs the physics of how different objects interact with each other in a game. For example, you don't want the player character to be able to walk through the walls of a building. But you may want a garbage can to be knocked over if something hits it with enough force.
A game could have hundreds of individual objects and assets that need to be created, and each with its own collision. For that reason, environment artists normally work in large teams. This divides up the work and allows them to bounce ideas and inspiration off of each other.
Environment Artists vs Level Designers
Environment artists are not to be confused with level designers, however. Despite building the assets that go into a level, and sometimes a playable early layout of the level itself, level designers and environment artists are slightly different jobs.
There can be a lot of overlap between the two positions, and so the two job titles can be interchangeable. But the main difference is that the level designer will take the assets that the environment artists created and place them into the game.
They don't usually create the assets themselves, and will instead work closely with environment artists to request new objects or to make sure the vision of the team is being met. This is important, because, on large AAA games, the environment artists have enough on their plate just to build everything that needs to go into the game, and may not have the time needed to place the objects they created.
But it's a very collaborative job, and the artists can use their inspiration and creativity to ensure all the set dressing they make brings life and context to the world of the game.
Even in games that use 2D rather than 3D graphics, there is a need for environmental artists. Rather than 3D models, they may be tasked with creating sprites of various objects or designing tiles (a pattern that can be easily drawn into the game to create the level layout and scenery).
Whether they specialize in 2D or 3D, the goal is the same. To create the environments and build the pieces that will go into the world that the player will see.
Hierarchy of Environmental Artists' Roles
It should be noted that there is also a bit of a hierarchy when it comes to environmental artists and the roles that they'll take in a game's development. Junior environment artists with less experience will normally be assigned smaller props and assets, while the more experienced senior artists work on entire, large-scale sets and levels.
In other words, this is one job in the gaming industry where you can actually find work even without years of experience under your belt. But this also means that your experience level will have a big impact on your salary.
A junior environment artist's salary is around $50,000, while more experienced environment artists can make up to $94,000. Prove that you're able to put out high-quality objects and levels, and you can work your way up the ladder. In short, becoming an environment artist can be a lucrative and creative career path.
What do you actually need to become one?
Required Skills of An Environment Artist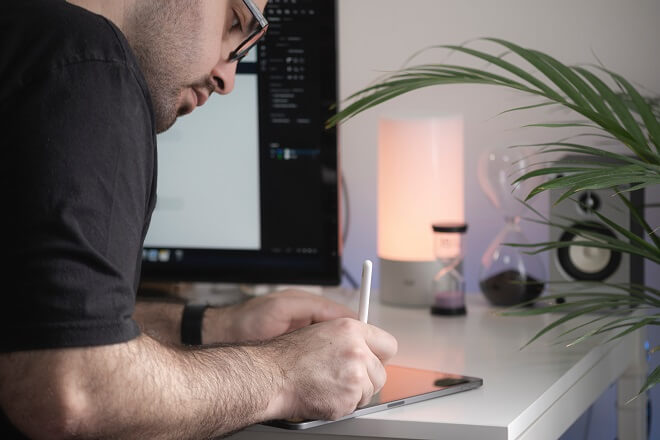 Artistic Skills
First and foremost, an environment artist needs to be a creative, artistic person with a passion for video games. It's a lot of work to build objects for a game, and the work will be for nothing if the artist can't find the drive to express themselves.
The artist should be well versed in form, light, and texture, shade, perspective, as well as a number of different art styles to match the game they're working on. Some games may have a more realistic tone, and others may be more abstract or fantastical in nature. The objects that the artist creates will have to fit with whatever the vision is.
Some high-level environment artists, rather than just relying on images they can find for reference, may create 2D concept art themselves. This not only assists them with their work, but can give the entire team a stronger vision of the game they are all making, and what needs to be worked on next to make it happen.
Technology Proficiency
Environment artists will also need to have an understanding of a number of different software programs required for their job. First, there's the engine. The most commonly used engines are Unity and Unreal Engine, but some game development projects may have a specialized engine of their own.
Engines are what power and run the game, and serve as the foundation upon which all game development happens. So no matter what, an environment artist should have an understanding of the engine their game will use. Luckily, if you're not there yet, Unreal and Unity are actually free to use. So you don't have to have a career in the gaming industry to get some practice with them.
After that, environment artists need to get some practice making 3d models and props. This means using modeling software such as Maya, or 3ds Max. Zbrush is a 3D sculpting program that allows the artist to add even finer details to their models, as well as to paint them.
Each of these programs allows you to create grayscale models of objects or characters, that you can then add your colors and texture to later. Entire playable levels will be done this way; first by making simple grey buildings and platforms to build the basic layout of the level, and then adding in the art and detail later. This makes sure the actual gameplay of the game is working from the beginning, and that everyone can see visually what areas still need to be completed.
Finally, an environment artist should know how to make textures that will go over the models. These are often created in photoshop, though different artists may favor different software. Once you've mastered these three categories, you will be well on your way to becoming an environment artist.
Architecture and Design Knowledge
Creating the buildings and interiors that will appear in a game is no easy feat. Buildings are complicated structures, coming in many different styles from many different time periods. While they may necessarily have to get a degree in architecture, environment artists absolutely need to have an understanding of it. Even creating a digital model of a building is a complex process.
In addition, interior design is essential to creating the shape, objects, and assets of an indoor area. In a game, similar to in a real home, objects are placed and spaced out for a reason. For example, if the player becomes lost in a large building with many turns, they may become frustrated or bored. But the way that you place furniture and objects and subtly guide a player to their destination, either by funneling them where you'd like them to go or by providing visible landmarks to make it easier to get your bearings.
Interior design can also be used for thematic reasons. Placing objects tightly in a thin hall might make the player feel claustrophobic and tense, which could be great for a horror game. Items being placed in odd places can make a room seem visually striking, or indicate that there is a certain weirdness to it. All that is why having an understanding of interior design and architecture is a huge asset to any environment artist.
How To Get A Job As A Game Environment Artist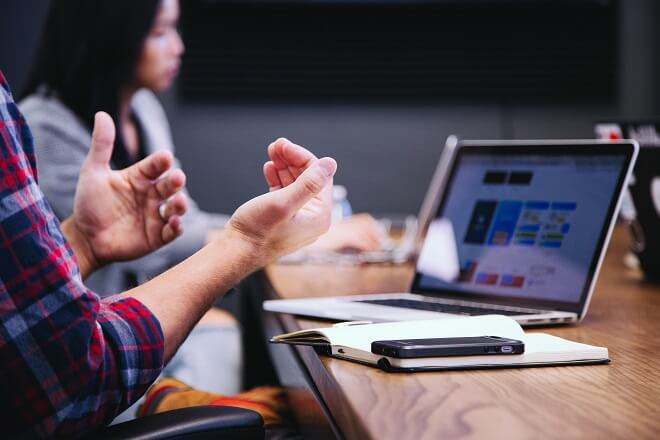 So, if you've become proficient in the technologies and have a great mind at creating 3D art, how do you actually get a job as an environment artist? Do you need to have an education? The answer: It depends.
As an environment artist, you will be part of a team. This means you won't be expected to work on massive levels by yourself, and certainly not when you've only just started. But a team needs reliable members. To enter this field you at least need to be able to show that you're competent enough in the necessary software to build a portfolio of 3D models and objects you've created.
Develop Your Software and People Skills
Education is one path to this. The Vancouver Institute of Media Arts, for example, offers a one-year course that will teach you all about the art of game design, including environmental art. It's a great way to learn the skills you need, earn a degree, and get a head start on your portfolio. But if going through an entire course is not for you, landing a job as an environment artist is still possible.
The best course of action is to practice. Improve your art most importantly, but also your software skills.
Try to make a playable level or at least a number of high-quality objects you can show off to potential employers, as well as your best art, in general, to show off to potential employers. If your portfolio passes scrutiny, they will often give you a test to prove that you can produce what they need in a timely manner and are a good fit for the vision of the game they want.
Also, your personality will make a big impact on your job prospects. After all, you'll be working with a team of people. Employers will want to make sure you're an asset not just to the game, but to the dynamic of the art department as a whole.
Where to Look for a Game Environment Artist Job
But where do you even apply to get a job as a game environment artist?
Well, there are several ways. First, you can check on various job sites, such as Indeed or LinkedIn. They will sometimes have environmental artist job openings available on their platforms. If you have a specific company in mind, they will often have ways to apply for a job right on their website, though this method of entry into the industry can be a lot harder.
Perhaps the best way to get a job in the industry is to network yourself by attending events where game designers meet, such as the Game Developer Conference, which hosts huge crowds of developers and designers alike. Unity Unite is an event where people who use the Unity engine show off the assets they've made, meet fellow designers and learn from professionals.
Keep appearing at these sorts of events, and you'll have a good chance of meeting potential employers, as well as friends and colleagues who can help you in the future. They're great opportunities that can do wonders for an up-and-coming environment artist.
Ready to Start Building Game Environments?
Of all the jobs that go into the creation of a game, environmental artists have a truly special one. By using their skill with technology, their creativity when it comes to making unforgettable and grand set dressing, and their relationship to a team of like-minded artists, they get to literally build a game from the ground up.
From empty white halls to the claustrophobic sanitized halls of Aperture Science. From a mold of digital clay to an impressive throne of skulls or a mountain of gold.
Video games are considered to be more than entertainment, but a form of art. It is the work of environmental artists that makes it so. As a member of one of these teams, you can play a game, point to a detailed object, whatever it is, and say with pride–" I made that." That itself, is truly what makes this career path so special.
If you have the skills, and the drive, then you can carve the form of a game into existence like it was a clay sculpture, and take part in helping the players remember your game forever.