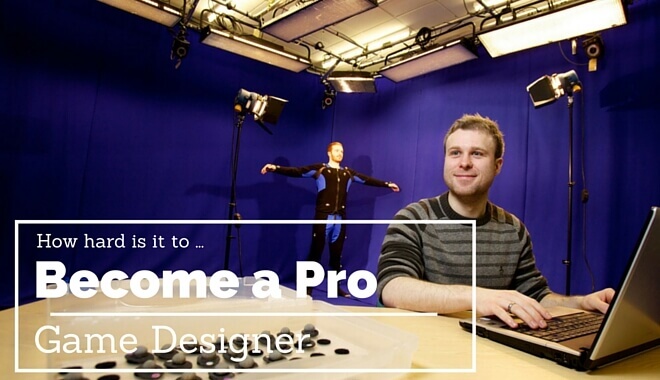 So you want to be a video game designer?
You love the game and can't think of anything you'd rather do than develop the next generation of a fun?
So do hundreds of others just like you.
There may be plenty of video game developing companies out there, but the number of qualified game designers looking for work continues to rise as well.
A college degree and passion alone won't cut it.
You'll need to present yourself in a way that stands out from the crowd, as this is a very competitive career.
Becoming a Game Designer: The Pros
---
Independence: You can create your own game. The market s very competitive and more people are studying game design.
As you wait for your dream company to start hiring again, you can be proactive and build your own game.
You can affect millions of people: These days, games are not just about entertainment.
They are also taking their place in educating people, such as training little children and preparing astronauts for space missions.
You get paid for being creative as well as playing games all day. Fun!
Becoming a Game Designer: The Cons
---
The hours: A game designer's life revolves around the game and until it's fully designed and ready for the final release, he spends almost all his hours in the studio.
There are things that may be standing in the way of you getting that dream job, such as;
Communication: Inability to communicate your thoughts can be a stumbling block in anything that you attempt.
Every book on game designing is written in English, or at least 90%.If you are unable to communicate and express yourself in the language, it may be even harder to design a game in the language.
Education: Your education can play a big part in getting the attention of studios. Not all game design programs are equal.
Some are more detailed than others because they'll take the perspective of a novice and start the education from grassroots. Others will assume that anybody enrolling in this course is already a storyteller and proceed to more advanced levels of the course, leaving out the basics.
The two scenarios produce two quite different graduates, with the same level of education. One will however be disadvantaged.
Location: Where you live is also a consideration. Some states have a bigger concentration of game developing companies, such as California and Texas, than others.
Overcoming These Challenges
---
Move: Make that move. If design companies simply aren't where you are, you'll need to relocate.
Engage: Be fluent in the language of game development. This means being able to at least participate in conversations about: Programming, art, and storytelling.
When you really want something, you'll do anything to get it. We recommend enrolling in a course that will enhance your understanding of the language, engage with native speakers of the language too. You may understand it well enough, but now learn how to express yourself do that others understand your ideas.
Offer to work for free: In any career, landing that first position in the industry is usually the hardest. Be willing to take just about anything that you'll be able to use on your resume later.
The fact is, most employers prefer someone with some on-the-job experience, so get that experience any way you can. This is where volunteering, and internships come in.
Keep learning: Do not go to school just to get your degree. Choose a program that will give you the edge over other designers. That edge is knowledge. Growing your knowledge base is the more efficient way to get ahead of your competition before you've been hired anywhere.
If you already have a degree but lack some of the fundamental requirements in the job, go back to school and enhance that. It's never too late to do that and at the end, the benefits will be worth the time spent.
Even after you've graduated keep learning. Read books, blogs, and forums. Keep up to date on the latest software and tools. Try building your own games from home – learn by doing.
Wrapping Up
---
The gaming industry is booming right now. Bigger and better games are coming out each week and the pressure to keep up has gaming studios hiring like never before.
However, the competition for those positions continues to grow as well. Designing games for a living can be incredibly fulfilling but you'll have to work very hard, especially early on, to get your foot in the door. But if you follow the simple steps we've laid out, you'll have a great shot at landing your first job and establishing yourself as a pro game designer.