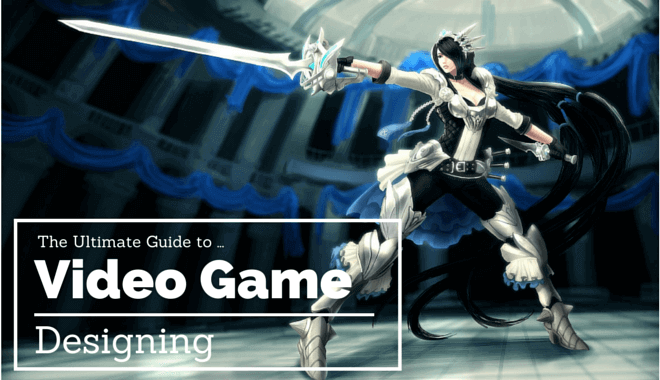 For those of you who love video games, the idea of designing your own video game may seem like the perfect job.
For many, it is a dream come true, but you'll soon learn that having a job as a game designer is more difficult (and more rewarding) than it may seem.
Don't Expect it to Be Easy
---
Aspiring game designers are often taken aback when they first realize how much work actually goes into the process of creating a new video game.
Far too many would-be game designers vastly underestimate the amount of effort it takes to produce a real life, functioning video game. Some of you many even be surprised to hear that the entire process can take upwards of three to four or more years to produce a marketable product.
Despite this, many full time game designers find that the feeling of playing a video game that they've helped to create is unmatched by any other.
The goal of this article is to help shed some light on what it will take for you to become a professional video game designer.
Throughout the remainder of this piece, we will discuss virtually everything you'll need to know in order to successfully pursue such a rewarding career.
Not only will we deeply discuss the typical paths that video game design professional travel but also newer, more lucrative avenues that allow smaller teams of competent designers and developers to publish their own video games in significantly less time for a much lower cost.
We will also cover many other topics from university options and degree requirements to potential salaries and the future employment outlook for the industry. So, without further ado, lets begin.
What is a Video Game Designer?
---
Your main objective as a video game designer is to:
plan
create
design video games
Traditionally, the role of a video game designer has been more on the artistic or front-end side of things as opposed to video game developers who usually work on the technical side, also know as the backend.
These terms are similar to ones used in other industries for example, web 'designers' handle the front-end graphics (how the site looks and feels) and the web 'developers' mostly handle the backend (what the users can accomplish on the site) or what is commonly referred to as the 'engine' or 'brains' of the site.
Designer vs Developer
Just as in the web development community, the video game industry often uses the terms developer and designer interchangeably.
This tiny difference can be quite confusing to someone just starting out. For this reason I've made every effort to separate these two jobs, even though their duties often overlap in many places, especially at smaller game studios.
What do Video Game Designers Do?
---
In general, video game designers that opt to work for one of the mainstream companies will be placed in a highly specialized role as opposed to indie designers who will usually have various tasks to juggle.
For example, some video game designers might work exclusively on the pre-production team. Meaning your priority is to come up with clear goals and deadlines that should be honored by the production team.
On the other hand, a different designer working for the same company may be assigned to a team that handles the storyboard and or character designs.
These specializations can be narrowed down to cover every aspect of the creation process. Depending on the organization, the number of individuals assigned to each specialized team can vary from half a dozen to well over a hundred or more people.
These highly specialized teams usually allow for faster games, which contain fewer errors. This approach to making video games can only be achieved by established companies, which have multimillion-dollar budgets.
Smaller gaming companies have to take a different approach simply because it is nearly impossible to compete with this amount of brainpower.
What About Independent Video Game Design?
---
Generally speaking, if you're working for an independent game studio you will be required to handle a variety of different tasks over the course of production.
This means that in order to truly excel at your job you should possess an assortment of skills including:
technical
artistic
analytical
Any aspiring video game designer who seeks to publish their own ideas or land an indie studio job should be ready and willing to preform a variety of jobs, including:
programming
sound design
networking
matchmaking implementation
However, fret not as we will soon cover these obstacles in greater detail below.
How to Get an Education
---
Presently, video game designers seeking traditional employment from industry leading companies are usually required to have at least a bachelor's degree.
However, distinguished individuals with real experience and/or outstanding accomplishments within the industry ordinarily don't have to meet such requirements (more on this later).
For now, those of you interested in the traditional route will be pleased to hear that many colleges and universities all around the world offer degree programs that are specifically geared towards students interested in the video game design profession.
The Best On-Campus Game Design Schools
---
According to the Princeton Review:
University of Southern California,
University of Utah in Salt Lake City and
DigiPen Institute of Technology in Washington state
These schools make up the top three undergrad programs for aspiring video game designers. (See The 50 Best Schools Here)
Drexel in Philadelphia and Rochester Institute of Technology in New York state both respectively round out the top five universities for student seeking to study the art of video game design in the United States.
If your favorite school doesn't offer a video game degree, consider degrees in:
graphic design
computer animation
3D modeling
These will provide a solid foundation for what is required for most entry level positions.
Pro Tip: The Key is Specialization
---
It's best to utilize your elective classes to focus on the specific area you'd like to specialize in.
Unlike indie designers those seeking mainstream work are compartmentalized to preform highly specific task.

Seek out the specialization that you feel best matches your talents and interests.
For example, if you're inspired by the idea of designing the theme, backstory and settings of video games, you should consider taking creative writing or other classes geared towards fiction and story telling.
The same is also true if you're interested in becoming a part of the content design or writing team.
As a content design team member you're responsible for:
creating the missions
obstacles
weapons
other game items
All of which require high levels of creativity to successfully accomplish.
Interested in Audio & Sound Design?
---
On the other hand, folks who have a good sense of hearing may be interested in the audio design and manipulation team.
For such a specialty you should find out if your university offers in-depth classes on sound design theory as well as classes, which teach students how to properly utilize industry standard audio software.
These highly sophisticated computer programs are often referred to as digital audio workstations or DAWs for short.
Some of the more popular choices available on the market today include:
These powerfully pieces of computer software allow highly skilled professional to craft the exact sound a game needs in order to fully capture the imagination of the player.
Designing Video Game User Experience
---
Lastly, if you've discovered that you have a passion for user interface design (game menus and displays) or system design (mathematical rules and models that dictate game behavior).
You should seek to expand your technical and problem solving knowhow by completing both high level math and computer programming electives.
These types of classes will allow you to get a better understanding of the backend so that you can effectively communicate your ideas with the programmers.
These classes will also help you to design features, which are easier to implement and less likely to have bugs (programming slang for errors in the code).
Can You Skip College?
---
With the rapid advancement of technology and more gaming devices becoming available, some people have ditched the traditional college approach altogether to become entrepreneurs or have taken jobs at small studios which are much more likely to hire people without college degrees.
The Mobile Apps Effect
Mobile devices such as smart phones and computer tablets allow practically anyone with the drive and desire, to become game designers with enough time and effort.
These mobile gaming marketplaces provide the perfect on-ramp into the world of professional video game design, as the process of creating mobile video games for these smart devices is simple in comparison to traditional console games.
Also, by taking the mobile approach you'll have less overhead and fewer hoops to jump through initially.
This is true because these new methods of distribution allow anyone with a functional product to compete in marketplaces that can be accessed by hundreds of millions or even billions of users worldwide.
Mobile Apps vs Console Games
---
Generally speaking, it's nearly impossible for someone without a hefty budget (usually low to mid six figures at the minimum) and a decent sized team of people to publish a console video game.
However, since the release of the PlayStation 3, Sony has made it slightly easier for low budget studios to produce indie games for their machines.
The same is mostly true for the Wii and Xbox360 as well as the latest generation of consoles.
How to Start Small
On the flip side, mobile game designers can start producing games with a rather small team of people for far less time and money.
For example, minus development cost, you can publish your games to the GooglePlay (the digital marketplace for Android users) store for free, after a onetime $25 fee.
Apple on the other hand charges a $99 for a yearly membership no matter if you upload one or one hundred games to their marketplace called the App Store.
The megahit Temple Run serves as the perfect example of what can be accomplished by small teams and low budget indie studios.
This game, which became an overnight sensation has reached over one billion downloads.
Yet, it wasn't designed by a million dollar corporation or even a decent sized indie studio.
If I asked you take a guess at the number of employees Imangi Studios (the company behind Temple Run) had when they released the first version of the game, what would you say?
Would you believe me if I told you that they had less than ten employees?
What about less than five?
Well, you'd be right to believe such a thing because a small team of only three employees designed and developed the entire game.
This wildly popular game was created in the home of Keith Shepherd along with help from his wife and a close family friend.
Today, Temple Run is still consider one of the most popular mobile games on the market and continues to draw millions of downloads per year despite the fact that it was developed someone's bedroom.
The point is how the mobile video game market allows very small teams of talented individuals to combine their skill sets to produce amazing video games for these new platforms and devices.
You Have Plenty of Options
---
With that being said you shouldn't assume that this article is meant to persuade you to become a mobile game designer.
Instead, these atypical routes are meant to illustrate to all aspiring designers that there are many pathways to success, so don't get trapped in just one.
Are You Determined to Make This Your Career?
The journey towards becoming a professional video game designer is one in which even the best and brightest among us face challenges and slip-ups.
This is not a career for those who lack motivation and drive, as you will be required to dedicate many, many years of your life to honing your skills.
To be frank, those of you who are not fully committed wont last long.
On the other hand, those of you that are 100% dedicated and patient enough to learn will be rewarded in the end.
Video Game Design Jobs are Trending Up
---
There has never been a better time to take a dive into this industry.
According to The ESA (a trade association of the gaming industry) from 2007 – 2010, the industry has grown by nearly a factor of three. In 2007 the industry raked in roughly nine and a half billon dollars however, in 2010 things reached a new all-time high as the industry raked in just over twenty-five billion.
The entertainment industry has always been a very lucrative industry for individuals seeking to make a decent living.
How Much Money do Designers Make?
According to the US Bureau of Labor Statistics the average game designer makes just over $60k per year while the top 10% of them make over $110k.
Couple this with an expected 6% job growth over the course of the next decade and you'll realize just how lucrative video game design is.
What's even better is that self-publishers virtually have no limit to the amount they can earn.
Nevertheless, self-publishing isn't as straightforward or guaranteed as traditional employment.
Many designers and small teams struggle for years trying to make things work. Despite this harsh truth, games are here to stay.
As new computer hardware continues to enter the market, customers will continue to purchase newer, more innovative games that are able to successfully exploit the hardware's full capabilities.
How to Get Started
---
Anyone who is seriously committed to this career path is encouraged to start learning right away.
If you are still in high school, consider yourself lucky as you are around the perfect age to start. Hypothetically speaking, if you're 16 or 17 years old you will have 5 to 6 years of game design experience by the time you've graduated college.
Comparatively, your peers who didn't get started until college will graduate with only 1 or 2 years of worth. Of course just claiming to have 6 years worth of experience isn't enough to get you you're dream job.
Start Creating Today
Instead, support you claims with actual proof; aim to develop a solid portfolio, which demonstrate your game design knowledge and skills.
Perhaps the most practical way to establish a portfolio and gain genuine experience is to dabble in some of the mobile gaming marketplaces we've discussed above. This is true even if your end goal is to land a job with a mainstream publisher, as many of the skills you develop will easily transfer.
Get the Right Education for Your Goals
For you others who've already graduated high school yet, you've just recently discovered that this is your passion, you shouldn't be discouraged.
The thing about this industry is as long as you're passionate and you possess a valuable skill set, you can find work.
However, if you're in this group you must be more than dedicated because you will have to consistently push yourself extremely hard. Unfortunately, this isn't something that average people are capable of, only the strong-minded.
While there is no sure guarantee, if you're willing to dedicate at least two years of your life learning how to properly use the tools that game studios use, you may find it to be infinitely beneficial to your career.
Take the time to master tools such as:
Blender
Unity
Unreal Engine
You should take your time to get intimately familiar these game design tools while at the same time building up your portfolio.
If you're fully dedicated, after two or so years you should have a decent looking portfolio.
From here, your goal is to continue learning new stuff while at the same time searching for openings at video game startups and low budget studios.
Without a degree be ready to spend a considerable about of time searching for opportunities.
Always remember to make sure your portfolio stands out for the pack, as this is sure to get you more calls and opportunities for designing internships.
No matter which route you wish to travel, the aim is to get started right away.
Think about it like this, if this is something you truly want to do, the time will pass by anyway. In other words, those two years will come and go before you realize it.
You can either start right now with zero experience and be much more qualified in a few years, or you can let the years pass by and still be dreaming of what could have been.
Article Last Updated: March, 2017
---
References:
http://www.comscore.com/Insights/Market-Rankings/comScore-Reports-January-2015-US-Smartphone-Subscriber-Market-Share
http://xbox.create.msdn.com/en-US/home/faq/xbox_live_indie_games#xboxfaq002
http://www.anandtech.com/show/9003/valve-to-showcase-steamvr-hardware-steam-machines-more-at-gdc-2015/
http://www.princetonreview.com/press/game-design-press-release
http://www.wikihow.com/Submit-an-App-to-the-Android-Market
http://www.forbes.com/sites/alexkonrad/2013/01/24/as-millions-play-temple-run-its-husband-and-wife-team-prefers-to-stay-small/